The Religious Affiliation of


Korrek the Barbarian


Korrek

Religion: Kathartan polytheistic religion

Name: Korrek the Barbarian
Alter Ego: Korrek
Other Names: Korrek of Katharta
Classification:

supporting character
Publisher(s):

First Appearance: Fear #19 (Dec. 1973): "The Enchanter's Apprentice!"
Creators: Steve Gerber, Val Mayerik, Sal Trapani
Super? (Has Super Powers/Special Abilities/Technology): Yes
Number of Appearances: 9
Ally: Man-Thing
Ally: Howard the Duck
Occupation: warrior
Planet: Katharta
Gender: male
Korrek, a barbarian warrior from Katharta, is a Steve Gerber's Conan parody. The character was an ally of some of Gerber's better known characters: Howard the Duck, Man-Thing, Jennifer Kale, and Dakimh the Enchanter. Like Conan, Korrek is from a polytheistic culture. Korrek seems to be even more religious than Conan. Unlike Conan, whose worship centered on one god (Crom), Korrek seems to invoke and worship more gods of his native religion, worships gods including Agogin, Bharph, Rabis, and the Dog-Gods Zokk and Maftra.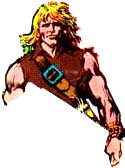 This character is in the following 3 stories which have been indexed by this website:

Fear #19 (Dec. 1973): "The Enchanter's Apprentice!"

The Man-Thing

Suggested links for further research about this character and the character's religious affiliation:
- http://www.marvunapp.com/Appendix/korrek.htm
- http://comicbookdb.com/character.php?ID=5866
- http://www.marvunapp.com/master/ko.htm
- http://www.marvunapp.com/master/tfthoq.htm
- http://www.marvunapp.com/master/kaskaz.htm
- http://www.marvunapp.com/master/ag.htm
- http://www.marvunapp.com/master/raarag.htm
- http://darkmark6.tripod.com/man-thing_index.html
- https://www.comics.org/issue/26976/
- http://comicbookdb.com/issue.php?ID=57352
- http://www.chronologyproject.com/k.htm
- http://www.comicboards.com/marvelguide/dimensions.html