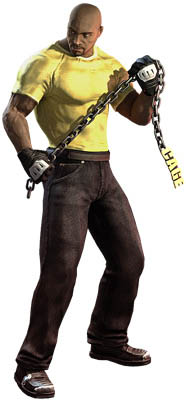 Religion of


Luke Cage


Religion: Christian (denomination unknown)

Name: Luke Cage
Other Names: Power Man; Hero for Hire; Carl Lucas; Mark Lucas; Power Man II; Ace of Spades; Power Fist
Classification:
hero
Publisher(s):
First Appearance: Hero for Hire #1 (June 1972): "Out of Hell -- A Hero!"
Creators: Roy Thomas, John Romita, Archie Goodwin, George Tuska, Billy Graham
Number of appearances: 951
Comic book appearances: 945
TV, film appearances: 2
Video game, computer game appearances: 4
Teams/Affiliations: Heroes for Hire; Defenders; Marvel Knights; New Avengers
Occupation: business owner, private investigator
Gender: male
Note: formerly owned a bar and theater
Excerpts
BELOW: Luke Cage makes a good-natured joke with Moon Knight about the Ku Klux Klan: The white costume and hood worn by the fellow super-hero Moon Knight apparently reminds race-conscious Luke Cage of the Ku Klux Klan. Cage makes a good-natured joke about the Klan with his future teammate. Cage tells him: "Guys in white hoods aren't exactly welcome in Harlem."
Source: Marvel Knights (vol. 1) #11 (May 2001): "Hero for Hire", pg. 5, panels 3-4. Written by Chuck Dixon. Art by Eduardo Barreto, Nelson Decastro. See also: racism; humor; White Supremacist; Moon Knight (Marc Spector); Luke Cage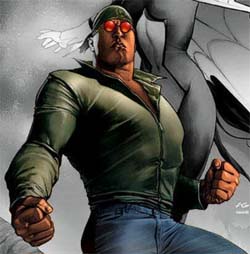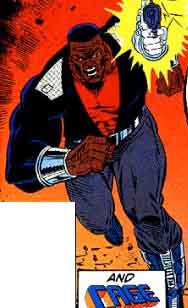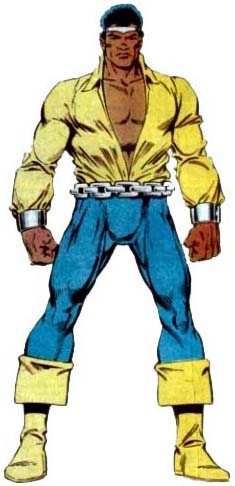 This character is in the following 220 stories which have been indexed by this website:


Alpha Flight (vol. 1) #40 (Nov. 1986): "Love" (only on cover)


The Amazing Spider-Man


The Avengers

Black Goliath #1 (Feb. 1976): "Black Goliath"
(cameo)

Black Panther

Cage

Captain America

Captain America and the Falcon

Civil War: Battle Damage Report #1 (Mar. 2007)

Cloak and Dagger (vol. 2) #9 (Nov. 1986): "The Lady and the Unicorn"
(only on cover)

Contest of Champions II

Daredevil

Dark Avengers/Uncanny X-Men: Utopia #1 (Aug. 2009): "Utopia: Part 1"
(1-panel cameo)

Dark Reign: The List - Avengers #1 (Nov. 2009)
(mentioned)

Deadpool (vol. 3) #900 (Dec. 2009): "One Down"
(toy)

The Defenders

Enter the Heroic Age #1 (July 2010): "Top Dog"

Fallen Son: The Death of Captain America #2 (June 2007): "Anger"

Giant-Size Avengers (vol. 2) #1 (Feb. 2008): "Emperor None & the Sky Full of Moons"

GLA #2 (July 2005): "Dismembership Drive"
(cameo)

Hero for Hire

Heroes for Hire

Icon

Icon: Mothership Connection

The Incredible Hulk (vol. 2) #600 (Sep. 2009): "Seeing Red"
(1-panel cameo)

Iron Man (vol. 1) #212 (Nov. 1986): "Precious Legacy"
(only on cover)

Marvel Age Annual #1 (Jan. 1985)

Marvel Fanfare (vol. 2) #6 (Feb. 1997): "Second Chances"
(lead character)

Marvel Knights

Marvel Knights Spider-Man

Marvel Super-Hero Contest of Champions

Marvel Team-Up

Marvel Two-in-One

Marvel Universe: Millennial Visions #1 (Feb. 2002): "United We Stand"

Marvel Year-in-Review #4 (1992)

Marvel: Ultimate Alliance (24 Oct. 2006)

Moon Knight Saga (Oct. 2009)
(1-panel cameo)

Ms. Marvel

The New Avengers

The New Mutants (vol. 1) #45 (Nov. 1986): "We Were Only Foolin'"
(only on cover)

New Thunderbolts

Power Man

Power Man and Iron Fist

Punisher (vol. 8) #1 (Mar. 2009): "The Punisher Saga"

The Secret Defenders

Secret Wars II

Siege: Captain America #1 (June 2010): "Bear Any Burden"

Silver Sable and the Wild Pack

Spider-Woman (vol. 4) #7 (May 2010): "Agent of S.W.O.R.D.: Part 7"

The Thing (vol. 2) #8 (Aug. 2006): "Last Hand"

Thunderbolts

Thunderstrike (vol. 1) #13 (Oct. 1994): "Man and Beast!"

The Uncanny X-Men

War of the Independents #2 (Feb. 2012): "For We Are Many"
(cameo)

What If? (vol. 2) #112 (Sep. 1998): "Brave Old World"

X-Factor (vol. 1) #10 (Nov. 1986): "Falling Angel!"
(only on cover)

Young Avengers

Suggested links for further research about this character:
- http://www.adherents.com/lit/comics/Luke_Cage.html
- http://www.imdb.com/character/ch0039558/
- http://www.marvunapp.com/master/caacak.htm
- http://www.comicboards.com/marvelguide/c.htm
- http://www.marvunapp.com/master/potpq.htm