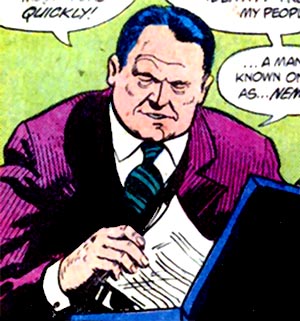 Jay Kingston


Religion: not determined yet

Name: Jay Kingston

Classification:

villain
Publisher(s):

First Appearance: The Brave and the Bold (vol. 1) #168 (Nov. 1980): "Swift Wing of Recompense"
Creators: Cary Burkett, Dan Spiegle
Number of Appearances: 9
Enemy of: Nemesis
Gender: male
The DarkMark index for Nemesis stories includes a single reference to a character named "Jay Anniston" in the Nemesis story titled "The Bitter Choice!" published in The Brave and the Bold #178 (Sep. 1980). Other sources refer to "Jay Kingston" as a supporting character in this story. Jay Kingston appeared in other Nemesis stories around this time. As we can find no other references to "Jay Anniston," we believe that "Jay Anniston" is an alias used by Jay Kingston, or "Jay Anniston" was printed by mistake in reference to the same character who was previously introduced as "Jay Kingston," or possibly the surname "Anniston" is simply a transcription error.
Based on an examination of multiple sources, it does not seem likely "Jay Anniston" is actually a distinct character separate from Jay Kingston.
This character is in the following 9 stories which have been indexed by this website:

The Brave and the Bold

Suggested links for further research about this character:
- http://www.writeups.org/fiche.php?id=5068
- http://darkmark6.tripod.com/nemesis.html
- https://www.comics.org/issue/34813/
- http://comicbookdb.com/issue.php?ID=44992