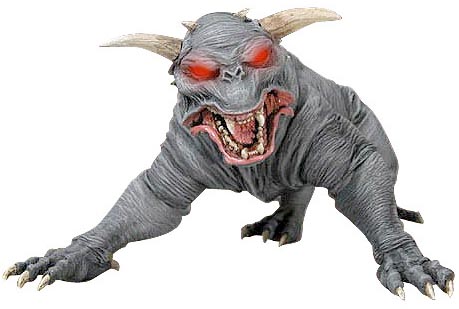 The Religious Affiliation of


Zuul


Religion: Mesopotamian demigod

Name: Zuul
Other Names: The Gatekeeper; Terror Dog
Publisher(s):

Delphi Films
First Appearance: Ghostbusters (1984)
Creators: Dan Aykroyd, Harold Ramis, Rick Moranis, Ivan Reitman
Super? (Has Super Powers/Special Abilities/Technology): Yes
Number of Appearances: 1
Enemy of: Dana Barrett, Ghostbusters
Gender: male
http://www.gbfans.com/ghostbusters/characters/zuul/: "The Gatekeeper, also known as Zuul, is the "Terror Dog" who eventually possesses Dana Barrett in the first Ghostbusters movie. It is a demigod that was worshipped in 6000 BC by the Hittites, Mesopotamians, and Sumerians as a minion of Gozer, the shape-shifting god of destruction. Both the Gatekeeper and the Keymaster have the ability to possess human hosts and then change into their native "Terror Dog" form when necessary."
Mac Gargan (Venom) quoted the line "There is no Dana, only Zuul" (from the "Ghostbusters" film) in Dark Avengers #5.
This character is in the following 2 stories which have been indexed by this website:

Dark Avengers #5 (Aug. 2009)
(mentioned)

Ghostbusters (1984)

Suggested links for further research about this character and the character's religious affiliation:
- http://www.gbfans.com/ghostbusters/characters/zuul/
- http://www.imdb.com/title/tt0087332/maindetails
- http://www.imdb.com/character/ch0136664/
- http://en.wikipedia.org/wiki/Ghostbusters
- http://www.imdb.com/title/tt0087332/quotes