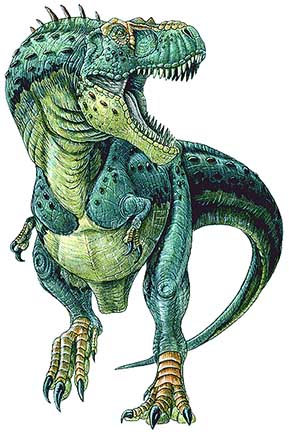 Religion of


Tyrannosaurus Rex


Religion: N.A.

Name: Tyrannosaurus Rex
Other Names: T-Rex
Classification:

supporting character
Publisher(s):
First Appearance: Dark Avengers #4 (June 2009)
Creators: Brian Michael Bendis, Mike Deodata
Number of appearances: 70
Nation: England
Gender: not applicable
Note: lived in England, One Million B.C.
In order to defeat her, Doctor Doom transported Morgan Le Fay back in time to the year One Million B.C. A splash page depicted the result. This page, with the only narrative text reading "England, One Million B.C.", depicts a frightened Morgan Le Fay running away from a savage Tyrannosaurus Rex dinosaur, who is also chasing a band of about seven cavemen.

This character is in the following 9 stories which have been indexed by this website:


Dark Avengers #4 (June 2009) (1-panel cameo)


DC Special #27 (Apr.-May 1977): "Danger: Dinosaurs At Large"


Marvel Team-Up (vol. 1) #19 (Mar. 1974): "The Coming of... Stegron the Dinosaur Man!"


Marvel Universe #4 (Sep. 1998): "Monsters on the Loose!"


The New Avengers


Prime (vol. 1) #6 (Nov. 1993): "Primal Changes"

The Uncanny X-Men (vol. 1) #138 (Oct. 1980): "Elegy"
(mentioned)

Suggested links for further research about this character:
- http://www.comicvine.com/t-rex/29-62483/
- http://www.comics.org/issue/564126/
- http://www.comicbookdb.com/issue.php?ID=168823