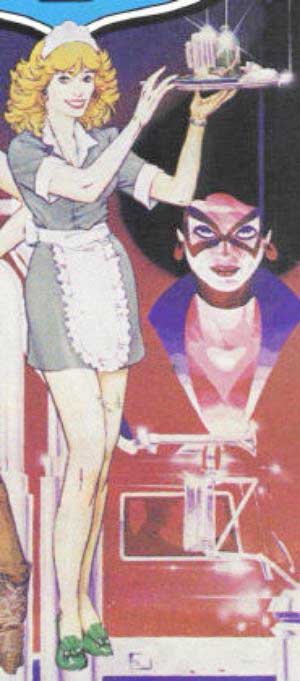 Midnight


Mary McGrill

Religion: not determined yet

Name: Midnight

Alter Ego: Mary McGrill

Other Names: Mary McGrill Archer

Classification:

supporting character
Publisher(s):

First Appearance: US 1 #2 (June 1983): "After Midnight!"
Creators: Al Milgrom, Herb Trimpe, Mike Esposito
Number of Appearances: 15
Enemy of: Xemnu the Titan, The Highwayman
Ally: U.S. Archer
Ally: Poppa Wheelie
Ally: Wide-Load Annie
Employer: Short Stop
Employer: Star Stop
Occupation: cook, truck driver
Gender: female
Note: girlfriend, later wife of trucker U.S. Archer
Mary McGrill worked as a short order cook at the Short Stop, the truck stop frequented by heroic trucker U.S. Archer.
Mary McGrill was hypnotized by U.S. Archer's arch-enemy, the Highwayman, into taking on the villainous identity of "Midnight." It was some time before U.S. Archer realized that Mary McGrill and Midnight were one in the same.
U.S. Archer was able to free Mary McGrill from the Highwayman's control.
U.S. Archer and Mary McGrill finally got married. They relocated from Earth to work at the Star Stop, the space-based "truck stop" established by Mary's former bosses, Poppa Wheelie and Wide-Load Annie.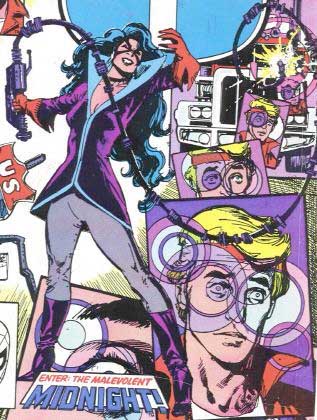 This character is in the following 13 stories which have been indexed by this website:

The Sensational She-Hulk

US 1

Suggested links for further research about this character:
- http://www.marvunapp.com/Appendix/midnitus.htm
- http://www.comicvine.com/mary-mcgrill-archer/29-57073/
- http://comicbookdb.com/character.php?ID=15384
- http://www.comicboards.com/marvelguide/a2.html
- http://www.marvunapp.com/master/miamid.htm
- http://comicbookdb.com/issue.php?ID=39421
- http://www.comicvine.com/us-1-after-midnight/37-57597/
- https://www.comics.org/issue/76410/
- http://marvel.wikia.com/US_1_Vol_1_2