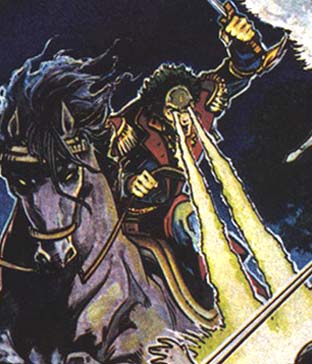 The Religious Affiliation of


Hotspur


Religion: demonolatry

Name: Hotspur
Classification:

villain
Publisher(s):

First Appearance: The Defenders (vol. 1) #146 (Aug. 1985): "Fun!"
Creators: Peter Gillis, Luke McDonnell, Art Nichols
Super? (Has Super Powers/Special Abilities/Technology): Yes
Number of Appearances: 2
Enemy of: The Defenders
Gender: male
Note: born in wealthy 18th C. family; made pact with demon
Hotspur was a self-indulgent young man born into a wealthy family in the 18th Century. During that time he went on many "wildings" with the nefarious Lords of Fun.
Hotspur gained supernatural demonic power by making a pact with a demon. Part of his pact was that he would be reborn if anyone would summon him. Hotspur was able to generate Muspel-flame (i.e., soulfire), which he could use to cause mass hallucinations.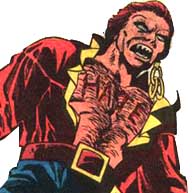 Suggested links for further research about this character and the character's religious affiliation:
- http://comicbookdb.com/character.php?ID=12227
- http://www.marvunapp.com/master/hooht.htm
- http://www.marvunapp.com/master/lordloz.htm
- https://www.comics.org/issue/40325
- http://comicbookdb.com/issue.php?ID=36503
- http://www.comicvine.com/the-defenders-/37-25781/
- http://marvel.wikia.com/Defenders_Vol_1_146
- http://www.chronology.net/default.pl/cited/rd_defenders/2