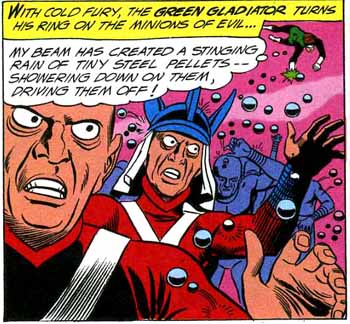 The Religious Affiliation of


Weaponers of Qward


Religion: Qwardian lawful evil

Name: Weaponers of Qward
Other Names: Weaponeers of Qward
Classification:

villains

group
Publisher(s):

First Appearance: Green Lantern (vol. 2) #2 (Sep.-Oct. 1960): "The Secret of the Golden Thunderbolts!"
Creators: John Broome, Gil Kane, Joe Giella
Super? (Has Super Powers/Special Abilities/Technology): Yes
Number of Appearances: 24
Enemy of: Green Lantern
Type of Organization/Group: military unit
Planet: Qward
Race: Qwardian
Note: evil-doers ruled Qward, ran life along "lawful evil lines"
Number of group members listed below: 7
Character
(Click links for info about character
and his/her religious practice, affiliation, etc.)
Religious
Affiliation
Team(s)


[Notes]

Pub.
#
app.
Qwardian; Weaponers of Qward
[tried to steal Green Lantern's power lamp]
1
Qwardian; Weaponers of Qward
[tried to steal Green Lantern's power lamp]
1
Weaponers of Qward (leader)
[Chief Weaponer of Qward]
3
Qwardian; Weaponers of Qward (leader)
1

| | |
| --- | --- |
| | uplifted animal |

Secret Society of Super Villains; sharks...
[evolved mutated tiger shark]
28
Green Lantern Corps; Injustice League...
189
Qwardian
[evil-doers ruled Qward, ran life along "lawful evil lines"]
24