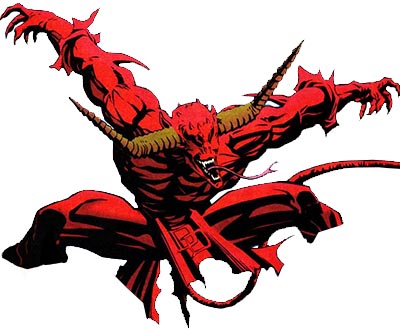 The Religious Affiliation of


Hellspawn


Religion: N.A.

Name: Hellspawn
Other Names: Red Man; Matt Murdoch; Daredevil doppelganger; Magus version of Daredevil
Classification:

villain
Publisher(s):

First Appearance: Daredevil (vol. 1) #310 (Nov. 1992): "Devil Ye Rouge"
Creators: Glenn Herdling, Scott McDaniel, Bud LaRosa
Super? (Has Super Powers/Special Abilities/Technology): Yes
Number of Appearances: 7
Teams/Affiliations: Snakeroot
Employer: the Magus
Employer: Hogun (Creole Houngan)
Worked for: Calypso
Gender: male
Note: Infinity War doppelganger of Daredevil
Hellspawn was an Infinity War doppelganger of Daredevil. (During the Infinity War, the cosmic villain the Magus created demonic doppelgangers of most major super-heroes.) He was killed by Calypso and then resurrected as a zombie. He was subsequently turned back into a human and then permanently destroyed.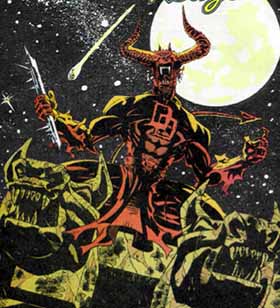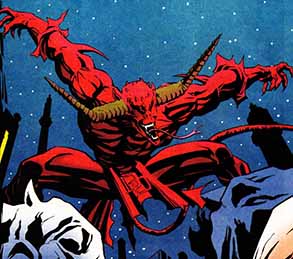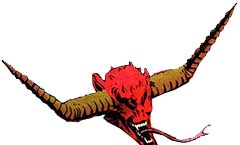 Suggested links for further research about this character and the character's religious affiliation:
- http://www.marvunapp.com/Appendix/hellspaw.htm
- http://www.comicvine.com/hellspawn/29-26805/
- http://marvel.wikia.com/Hellspawn_(Earth-616)
- http://www.marvunapp.com/master/hellfhelz.htm
- http://comicbookdb.com/issue.php?ID=7482
- http://marvel.wikia.com/Daredevil_Vol_1_310
- https://www.comics.org/issue/52043/