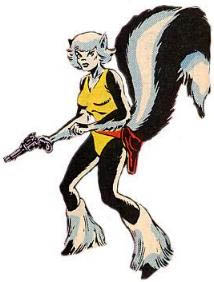 The Religious Affiliation of


Hepzibah


Religion: Mephitisoid religion

Name: Hepzibah
Other Names: Mam'selle Hepzibah; Zee
Classification:

hero
Publisher(s):

First Appearance: X-Men (vol. 1) #107 (Oct. 1977): "Where No X-Man Has Gone Before!"
Creators: Chris Claremont, Dave Cockrum, Dan Green
Super? (Has Super Powers/Special Abilities/Technology): Yes
Number of Appearances: 56
Comic Book Appearances: 55
TV, Film Appearances: 1
Teams/Affiliations: Starjammers; X-Force; X-Men
Birth Place: Tryl'sart, Cyrane Om'ir, Shi'ar Empire
Race: Mephitisoid
Gender: female
Hepzibah is a member of the Mephitisoid race native to the planet Tryl'sart, in the Shi'ar Empire. "Hepzibah" is the name this character uses among humans. Her true name in her native language is a combination of odors quite "unpronounceable" and unintelligible by humans.
This character is in the following 15 stories which have been indexed by this website:

Avengers

Marvel Comics Presents (vol. 1) #149 (Early Mar. 1994): "Beyond the Call"

Maximum Security #2 (Dec. 2000): "A World of Hurt"
(mentioned)

Maximum Security: Dangerous Planet #1 (Oct. 2000): "A Very Dangerous Planet"
(1-panel cameo)

S.W.O.R.D. #2 (Feb. 2010): "Aliens Go Home: Part One"

Tales from the Age of Apocalypse #2 (Dec. 1997): "Sinister Bloodlines"

The Uncanny X-Men

Wolverine

X-Men

Suggested links for further research about this character and the character's religious affiliation:
- http://www.marvel.com/universe/Hepzibah
- http://www.marvunapp.com/master/hemhez.htm
- http://www.marvunapp.com/master/x0xmxz.htm
- http://www.comicboards.com/marvelguide/h.html
- http://www.marvunapp.com/master/x0xaxl.htm
- http://www.imdb.com/title/tt0792902/