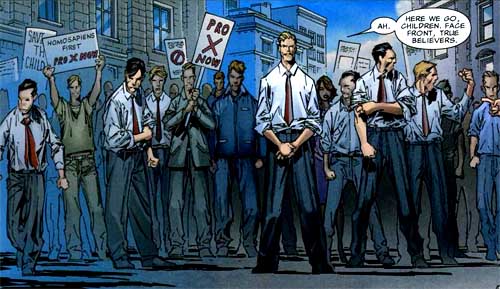 The Religious Affiliation of


Humanity Now!


Religion: anti-mutant

Name: Humanity Now!
Other Names: The Humanity Now! Coalition
Classification:

supporting characters

group
Publisher(s):

First Appearance: Uncanny X-Men (vol. 1) #505 (Feb. 2009): "Lovelorn, Part Two"
NOTE: This is our current best assessment of the first appearance of this character, but this has been flagged in our database as uncertain.
Creators: Matt Fraction, Terry Dodson, Rachel Dodson
Number of Appearances: 6
Type of Organization/Group: activist
Note: led by Simon Trask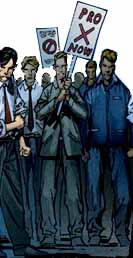 This character is in the following 7 stories which have been indexed by this website:

Dark Avengers #7 (Sep. 2009): "Utopia, Chapter Three"
(1-panel cameo)

Dark Avengers/Uncanny X-Men: Utopia #1 (Aug. 2009): "Utopia: Part 1"

Uncanny X-Men

X-Men: Legacy

Suggested links for further research about this character and the character's religious affiliation:
- http://marvel.wikia.com/wiki/Simon_Trask_(Earth-616)
- http://www.comicvine.com/simon-trask/29-58925/