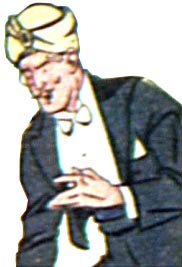 The Religious Affiliation of


El Carim


Yasser El Karim

Religion: occult

Name: El Carim
Alter Ego: Yasser El Karim
Other Names: El Carim, Master of Magic; Master of Magic
Classification:

hero
Publisher(s):

First Appearance: Master Comics #1 (Mar. 1940): "The Search For Harrington Grey"
Creators: Carl Formes, Sven Elven
Super? (Has Super Powers/Special Abilities/Technology): Yes
Number of Appearances: 32
Gender: male
Born in Cairo, Egypt, El Karim is a fourth generation scholar of antiquities and dead languages stretching back to the Napoleonic invasion of Egypt in 1807. He came to Miskatonic University in 1940 to help translate a copy of the dreaded Necronomicon written by Ras-al-Ghul in c.779 AD. He is a trained and talented mage.

Suggested links for further research about this character and the character's religious affiliation:
- http://pdsh.wikia.com/wiki/El_Carim
- http://alternatehistory.net/discussion/showthread.php?t=72967&page=5
- https://www.comics.org/issue/684/
- http://en.wikipedia.org/wiki/List_of_former_Quality,_Fawcett_and_Charlton_characters_that_haven't_appeared_in_DC_comics