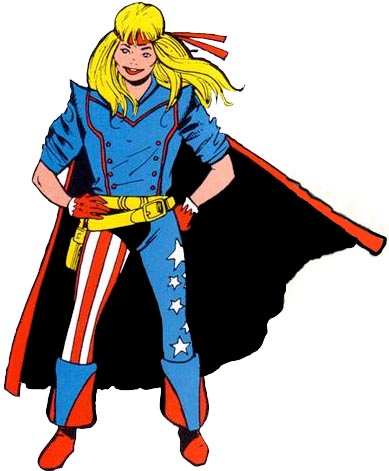 Holly-Ann Ember


Religion: not determined yet

Name: Holly-Ann Ember

Other Names: Starbird

Classification:

supporting character
Publisher(s):

First Appearance: Marvel Graphic Novel #16 (Sep. 1985): "The Aladdin Effect"
Creators: Jim Shooter, David Michelinie, Greg LaRocque, Vince Colletta
Super? (Has Super Powers/Special Abilities/Technology): Yes
Number of Appearances: 2
Enemy of: A.I.M., Timekeeper
Ally: Storm
Ally: Tigra
Ally: Wasp
Defended or Helped by: She-Hulk
Occupation: student
Nation: USA
Birth Place: Venture Ridge, Wyoming, USA
Gender: female
Holly-Ann Ember was a young girl who possessed the ability to make her wishes come true. Before she realized she even had this impressive power, she unknowingly used it to bring She-Hulk, Wasp, Storm and Tigra to her hometown so that these heroines could save her town from AIM and the Timekeeper. Eventually Holly-Ann learned that she had super-human powers.
Holly-Ann Ember's parents were named Joseph and Mary, which is particularly interesting from a religious perspective. Holly-Ann had the power to literally make her wishes come true. Her parents names are the same as the parents of Jesus, described in the Bible as God incarnate who literally could perform miracles and essentially make wishes come true. This story thus posits Holly-Ann Ember as a sort of Christ figure.
Of course, there are many differences between Holly-Ann Ember and Jesus. Holly-Ann, at the age of 8, was unable to consciously utilize her power. It is also possible that she could really make any wishes come true, but that her power was limited to the specific abilities demonstrated in the story in which she appeared, such as the ability to teleport others from anywhere on Earth.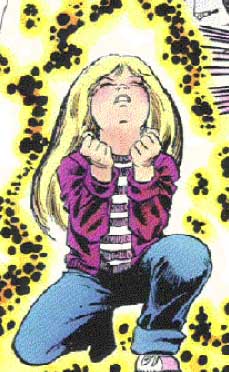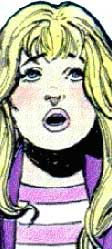 This character is in the following 2 stories which have been indexed by this website:

Marvel Graphic Novel #16 (Sep. 1985): "The Aladdin Effect"

Marvel Legacy: The 1980s Handbook (Mar. 2007)

Suggested links for further research about this character:
- http://www.marvunapp.com/Appendix/emberha.htm
- http://www.comicvine.com/holly-ann-ember/29-56831/
- http://www.comicboards.com/marvelguide/e.htm
- http://www.marvunapp.com/master/emen.htm
- http://marvel.wikia.com/wiki/Holly-Ann_Ember
- http://www.hahnlibrary.net/comics/xappsm-o.html
- http://www.ludickid.com/011007.htm