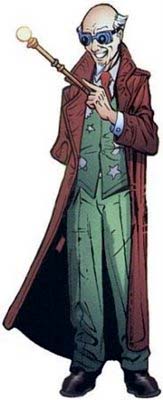 The Religious Affiliation of


Matter Master


Mark Mandrill

Religion: alchemist

Name: Matter Master
Alter Ego: Mark Mandrill
Classification:

villain
Publisher(s):

First Appearance: The Brave and the Bold (vol. 1) #35 (Apr.-May 1961): "Menace of the Matter Master!"
Creators: Gardner F. Fox, Joe Kubert
Super? (Has Super Powers/Special Abilities/Technology): Yes
Number of Appearances: 21
Teams/Affiliations: Secret Society of Super Villains; The Injustice Society
Enemy of: Hawkman
Gender: male
Scientist who spent spare time attempting alchemy. When a vial of unknown chemicals spilled on the floor, he learned that he could telepathically control these chemicals. Mandrill fashioned a wand out of this chemical. As the Matter Master became a super-criminal, began robberies...
Matter Master appears in Joker: Last Laugh #4, but it may not be the actual Matter Master (Mark Mandrill). In panel 3 on the 2-page spread encompassing pages 9 and 10 in this issue (pages 104 and 105 in the Joker: Last Laugh trade paperback), General Crisp is reporting to President Lex Luthor about how the U.S. military is faring in apprehending the numerous villains the Joker helped escape from the Slab. General Crisp tells the President, "Air National Guard took down Cerberus and some geek claiming to be the Matter Master in Midway City."
Clearly General Crisp does not believe this villain to be the actual, original Matter Master. The character shown in this panel is dressed it the traditional wizard's robe costume of the Matter Master and looks like the Matter Master (aside from being "Jokerized," as were all the escaped villains). But possibly General Crisp had intelligence indicating that the real Matter Master was elsewhere or for some reason could not be the criminal running rampant in Midway City. The character listing for this issue at DCUguide.com actually lists this character as "Matter Master II," but most information sites simply indicate the original Matter Master as the character in this issue. General Crisp refers to other characters as people who "call themselves" something or other, even though they clearly are the real thing (e.g., White Dragon and Warjack), so it seems as if the General is simply speaking derisively about the code names of these super-villains. The Matter Master in this issue probably is the genuine article, and General Crisp's use of the phrase "claiming to be" can probably be attributed to the general and his disdain for or unfamiliarity with these villains, rather than the character being an impostor.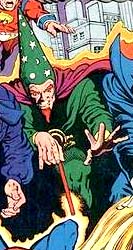 This character is in the following 4 stories which have been indexed by this website:

The Brave and the Bold (vol. 1) #35 (Apr.-May 1961): "Menace of the Matter Master!"

Joker: Last Laugh #4 (Dec. 2001): "Everyone Knows This is Nowhere"

Justice League of America (vol. 1) #28 (June 1964): "The Case of the Forbidden Super-Powers!"

Secret Society of Super-Villains #7 (May-June 1977): "Luthor's League of Super-Villains"

Suggested links for further research about this character and the character's religious affiliation:
- http://en.wikipedia.org/wiki/Matter_Master
- http://www.comicvine.com/matter-master/29-31128/
- http://www.dcuguide.com/who.php?name=mattermaster
- http://www.dcuguide.com/chronology.php?name=mattermaster
- http://www.dcuguide.com/Joker/JokerLL_004.php
- https://www.comics.org/issue/18426/