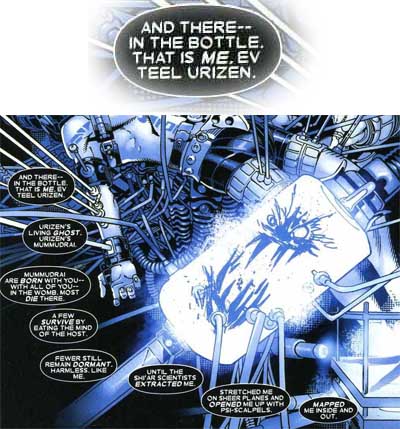 The Religious Affiliation of


Ev Teel Urizen


Religion: alien

Name: Ev Teel Urizen
Other Names: The Proscribed; The Anathema; The Womb-Weld; Mummudrai; Urizen Mummudrai
Classification:

supporting character
Publisher(s):

First Appearance: (behind the scenes) X-Men (vol. 2) #188 (Sep. 2006); (seen) X-Men (vol. 2) #197 (May 2007)
Creators: Mike Carey, Chris Bachalo, Tim Townsend
Super? (Has Super Powers/Special Abilities/Technology): Yes
Number of Appearances: 15
Enemy of: Hecatomb
Ally: X-Men
Race: Mummudrai
Note: Mummudrai twin of Ul'var Urizen
Ev Teel Urizen is was originally the Mummudrai (a sort of "invisible twin") of Shi'ar alien Ul'var Urizen. Unlike most Mummudrai, Ev Teel Urizen survived the birth of its normal/mortal host. Ev Teel Urizen was drawn to Earth and eventually bonded to and inhabited the brain of civil engineer Paul Brunner, then Lady Mastermind, Mystique, and finally Cable.
Upon discovering its presence within Lady Mastermind, the X-Men originally believed that Ev Teel Urizen was an evil enemy. Perhaps it was evil in a sense, but it had come to help them defend the world against a far greater threat: the Hecatomb, an immensely powerful Mummudrai that had been created ages ago by the Shi'ar. To defeat the Hecatomb, the mutant hero Cable merged with Ev Teel Urizen. Together with other X-Men in Rogue's squadron, they were able to defeat the Hecatomb in Cable's island nation of Providence. Ev Teel Urizen apparently perished in the effort, having been entirely consumed by Hecatomb.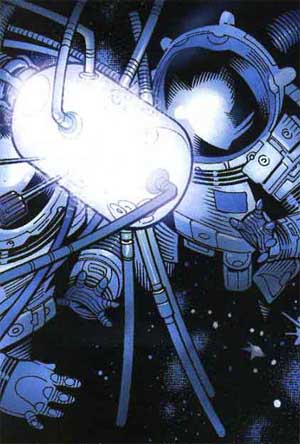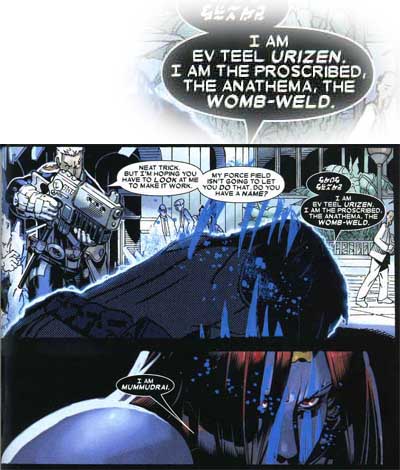 Suggested links for further research about this character and the character's religious affiliation:
- http://www.marvunapp.com/master/uruz.htm
- http://en.wikipedia.org/wiki/Mummudrai
- https://www.comics.org/issue/300143/
- https://www.comics.org/issue/342289/
- http://comicbookdb.com/issue.php?ID=51001
- http://comicbookdb.com/issue.php?ID=88555