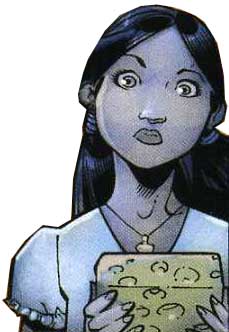 The Religious Affiliation of


unnamed young girl


Religion: Catholic

Name: unnamed young girl
Classification:

supporting character
Publisher(s):

First Appearance: X-Men (vol. 2) #188 (Sep. 2006): "Supernovas: Part 1"
Creators: Mike Carey, Chris Bachalo, Tim Townsend, Jaime Mendoza
Number of Appearances: 3
Enemy of: The Children of the Vault
Occupation: beggar
Nation: Mexico
Gender: female
Note: outside bar visited by Sabretooth and destroyed by Sangre
An unnamed young girl was a fairly significant supporting character in X-Men (vol. 2) #188. She and her mother were apparently beggars who hung around the entrance of El Acorazado (a saloon) in Nogales, Mexico. Sabretooth visited the bar in order to meet up with his ally Tomas, a man who had arranged for an escape route for him from Mexico. Sabretooth was fleeing the Children of the Vault at the time. Later, two members of the Children of the Vault - Sangre and Serafina - came to the bar on the trail of Sabretooth. Sangre left a singularity bomb which obliterated the bar and everything in it, including hundreds of people. But before Serafina and Sangre left the scene, Serafina used her powers (or technology) to lend a temporary force shield to the unnamed young girl. This protected the girl from the explosion.
Sangre asked his partner, Serafina, if she did this out of sentiment, wanting to protect the young girl from death. Serafina said no, that she did it as misdirection. After the explosion, people would be looking for a cause. By letting the girl live, Serafina claimed people would look in the wrong direction. The complete meaning of this statement was made clear at the end of this issue, when reporters on the scene talked to the young girl, the only survivor from the blast. The girl explained that just before the explosion an angel (Serafina) had told her the X-Men did it. Serafina's whispered words to this young girl thus caused considerable problems for the X-Men, as the world generally and U.S. federal authorities specifically questioned the mutant team's involvement in the Nogales devastation.
Little is actually known about the young girl, but her immediate identification of Serafina (who was mostly invisible and intangible at the time) as an "angel" suggests that, like most Mexican children in this time period, she was Catholic.
Another notable aspect of the young girl is how she clung tightly to her SpongeBob SquarePants doll in all of her appearances in this story.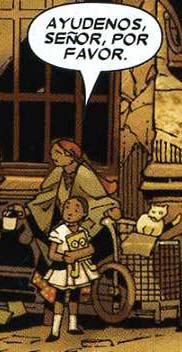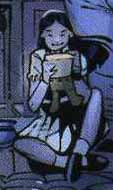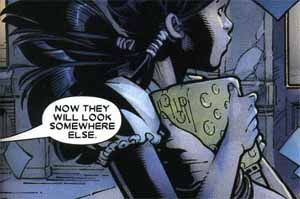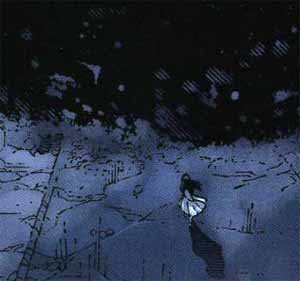 Suggested links for further research about this character and the character's religious affiliation:
- https://www.comics.org/issue/300143/
- http://comicbookdb.com/issue.php?ID=51001