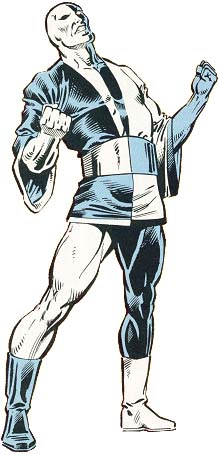 The Religious Affiliation of


The In-Betweener


Religion: cosmic entity

Name: The In-Betweener
Classification:

supporting character
Publisher(s):

First Appearance: Warlock (vol. 1) #9 (Oct. 1975): "The Infinity Effect"
Creators: Jim Starlin, Steve Leialoha
Super? (Has Super Powers/Special Abilities/Technology): Yes
Number of Appearances: 4
Enemy of: Galactus
Employer: Lord Chaos and Master Order
Gender: male
The In-Betweener is a creation of the abstract cosmic entities Lord Chaos and Master Order, and serves primarily as their servant. The In-Betweener is itself an abstract cosmic entity. He represents the dualities of concepts such as good and evil; logic and emotion; reality and illusion and life and death.
This character is in the following 7 stories which have been indexed by this website:

Fantastic Four Annual #23 (1990): "When Franklin Comes Marchin' Home"

Marvel Universe: The End #6 (Aug. 2003): "The Cure"

Secret Wars II

Warlock

X-Men Forever (vol. 1) #1 (Jan. 2001): "The Destiny Pact"
(cameo)

Suggested links for further research about this character and the character's religious affiliation:
- http://en.wikipedia.org/wiki/In-Betweener
- http://www.comicboards.com/marvelguide/i.htm
- http://www.marvunapp.com/master/inainh.htm