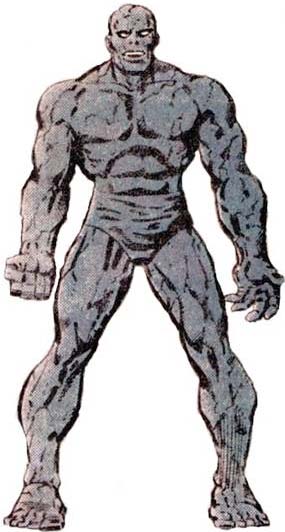 The Religious Affiliation of


It, the Living Colossus


Religion: alien (briefly)

Name: It, the Living Colossus
Classification:

hero
First Appearance: Tales of Suspense (vol. 1) #14 (Feb. 1961): "I Created the Colossus!"
Creators: Stan Lee, Jack Kirby, Dick Ayers
Super? (Has Super Powers/Special Abilities/Technology): Yes
Number of Appearances: 7
Teams/Affiliations: S.H.I.E.L.D.; The Howling Commandos
Enemy of: U.S. Army, The Soviet Army, Dr. Vault, Granitor
Ally: Fin Fang Foom
Occupation: special effects designer
Gender: male
Note: statue animated by mind transferal of alien Kigor
IT, the Living Colossus was a gigantic humanoid statue originally animated by mind transferal of an alien Kigor. Later IT was controlled by Earthman Bob O'Bryan. IT apparently had no inherent consciousness itself, so it's "religious affiliation" would simply be that of whoever controlled it at the time. Originally that was an alien of te Kigor race, a race whose specific religious beliefs and practices were never elucidated in detail. Other than the original Kigor alien and Bob O'Bryan, a handful of other individuals have animated IT (briefly or in alternative timelines). For most of IT's "career", however, it was animated by Bob O'Bryan, who is regarded as the real "alter ego" of the Living Colossus. Bob O'Bryan's specific religious affiliation is not yet known.
This character is in the following 5 stories which have been indexed by this website:

Civil War: Battle Damage Report #1 (Mar. 2007)

Fantastic Four: The World's Greatest Comics Magazine! #12 (Jan. 2002): "Victor von Doom, Emperor of Earth!"
(duplicate of)

Marvel Comics Presents (vol. 1) #169 (Early Dec. 1994): "Rock'Em Sock'Em Robots"
(lead character)

Spider-Boy Team-Up #1 (June 1997): "Too Many Heroes -- Too Little Time"
(character based on)

Tales of Suspense (vol. 1) #14 (Feb. 1961): "I Created the Colossus!"

Suggested links for further research about this character and the character's religious affiliation:
- http://en.wikipedia.org/wiki/It_the_Living_Colossus
- http://marvel.wikia.com/wiki/Robert_O'Bryan_(Earth-616)
- http://www.comicboards.com/marvelguide/i.htm
- http://www.marvunapp.com/master/irpiz.htm