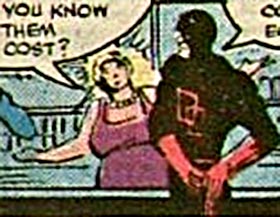 Josie


Religion: not determined yet

Name: Josie

Other Names: Josephine

Classification:

supporting character
Publisher(s):

First Appearance: Daredevil (vol. 1) #160 (Sep. 1979): "In the Hands of Bullseye"
Creators: Roger McKenzie, Frank Miller, Klaus Janson
Number of Appearances: 13
Ally: Battlin' Jack Murdock
Employer: Cafe Josie
Employer: Josie's Joint
Employer: Josie's Bar & Grill
Occupation: bartender, business owner, restaurateur, waitress
Location: New York City, New York, USA
Gender: female
Note: Daredevil often beat up patrons at her bar to get info
Josie owns a bar that is a popular hangout in Hell's Kitchen. Many of the clientele there are small-time criminals, which makes it a perfect place for Daredevil to go beat information out of people.
Many years ago, Josie was a girlfriend and lover of Matt Murdock's father: Battlin' Jack Murdock.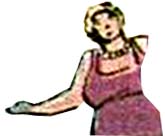 This character is in the following 11 stories which have been indexed by this website:

The Amazing Spider-Man (vol. 1) #266 (July 1985): "Jump For My Love or Spring Is in Air"

Daredevil

The Daredevils #11 (Nov. 1983): "The Kingpin Must Die!"
(business/store name)

The Marvels Project #3 (Dec. 2009)
(1-panel cameo)

Suggested links for further research about this character:
- http://marvel.wikia.com/Josie's_Bar
- http://www.marvunapp.com/master/joojz.htm
- http://www.comicboards.com/marvelguide/j.htm
- http://www.comicvine.com/josies-bar/34-56529/
- http://marvel.wikia.com/Daredevil_Vol_1_160
- http://www.manwithoutfear.com/daredevil-volume-1/issue/160
- http://www.comiccollectorlive.com/LiveData/Issue.aspx?id=c1da4c03-6330-4aad-bbe6-e72c25ea94a4