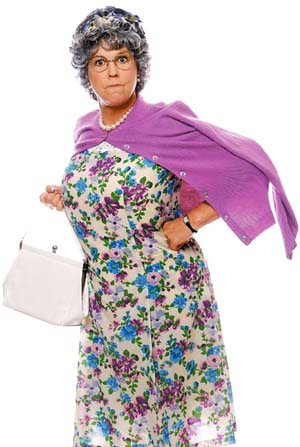 The Religious Affiliation of


Mama


Thelma Harper

Religion: Protestant

Name: Mama
Alter Ego: Thelma Harper
Other Names: Mrs. Thelma Crowley Harper; Thelma Crowley
Classification:

lead character
First Appearance: The Carol Burnett Show: "Vint and the Kids Move In" ("The Family" sketch)
Creators: Dick Clair, Jenna McMahon, Vicki Lawrence
Number of Appearances: 130
Gender: female
Note: President of Church Ladies League
Thelma Harper originated as a major feature of "The Family" series of sketches on "The Carol Burnett Show." She was featured on the spin-off show Eunice in 1982 before becoming the title character on the Mama's Family TV sitcom. Obviously "Thelma" debuted prior to 1982. We still need to find the exact episode and date on which she first appeared.
This character is in the following story which has been indexed by this website:

Justice League of America (vol. 2) #9 (July 2007): "The Lightning Saga, Chapter Three: Suicide"
(mentioned)

Suggested links for further research about this character and the character's religious affiliation:
- http://en.wikipedia.org/wiki/Thelma_Harper
- http://en.wikipedia.org/wiki/The_Family_(sketch)
- http://www.imdb.com/title/tt0085050/
- http://en.wikipedia.org/wiki/The_Carol_Burnett_Show