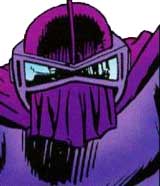 Masked Marauder


Frank Farnum

Religion: not determined yet

Name: Masked Marauder

Alter Ego: Frank Farnum

Other Names: Big M

Classification:

villain

scientist
Publisher(s):

First Appearance: Daredevil (vol. 1) #16 (May 1966): "Enter... Spider-Man!"
Creators: Stan Lee, John Romita, Frank Giacoia (as Frankie Ray)
Super? (Has Super Powers/Special Abilities/Technology): Yes
Number of Appearances: 28
Teams/Affiliations: Hood's Army; Maggia
Enemy of: Spider-Man, Iron Man, Daredevil, Werewolf By Night, J.W., Tom, The Brain, The Dancer, The Mangler, Louie
Ally: Stilt-Man
Occupation: criminal mastermind, landlord, scientist
Location: New York City, New York, USA
Race: white
Gender: male
Note: led own criminal gang
The "Masked Marauder" first appeared when he went up against both Spider-Man and Daredevil. After the heroes defeated the villain, they unmasked him and learned that he was actually somebody Daredevil knew in his civilian identity as Matt Murdock. It turned out that the Masked Marauder was none other than Frank Farnum, a successful New York City landlord who was the landlord of the building Matt Murdock's law office was located in.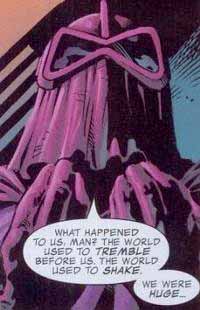 This character is in the following 13 stories which have been indexed by this website:

Daredevil

Werewolf by Night

Suggested links for further research about this character:
- http://comicbookdb.com/character.php?ID=11997
- http://marvel.wikia.com/Frank_Farnum_(Earth-616)
- http://www.comicboards.com/marvelguide/m2.html
- http://www.marvunapp.com/master/marumass.htm
- https://www.comics.org/issue/20048/
- http://marvel.wikia.com/Daredevil_Vol_1_16