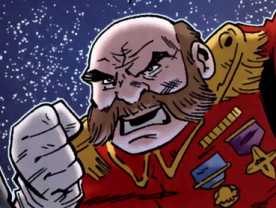 The Religious Affiliation of


Baron von Blimp


Religion: Nazi (fake)

Name: Baron von Blimp
Classification:

villain
Publisher(s):

First Appearance: (mentioned) U.S. 1 #3 (July 1983); (full) U.S. 1 #4 (Aug. 1983)
Creators: Al Milgrom, Frank Springer, Mike Esposito
Number of Appearances: 7
Enemy of: U.S. Archer
Ally: Highwayman
Gender: male
Note: posed as a Nazi; used band of pseudo-neo-Nazis
Baron von Blimp used a dirigible to haul freight. He led a band of fake neo-Nazis.
Baron von Blimp first crossed U.S. Archer when they competed against each other to see who could haul chicken faster for Chicken Colonel. After being bested by U.S. Archer, the villainous Baron von Blimp remained a recurring enemy of the heroic trucker.