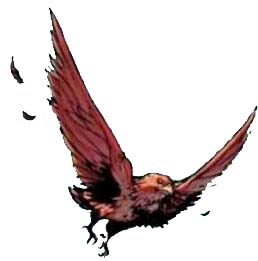 The Religious Affiliation of


Redwing


Religion: N.A.

Name: Redwing
Other Names: Brother Bird
Classification:

hero
Publisher(s):

First Appearance: Captain America (vol. 1) #117 (Sep. 1969): "The Coming of... the Falcon!"
Creators: Stan Lee, Gene Colan, Joe Sinnott
Number of Appearances: 128
Teams/Affiliations: Pet Avengers
Ally: Falcon
Species: falcon
Gender: male
Note: falcon; partner of Falcon (Sam Wilson)
The Falcon sometimes calls Redwing "Brother Bird," but nobody else does.
This character is in the following 111 stories which have been indexed by this website:

The Avengers

Black Panther (vol. 3) #59 (July 2003): "Ascension Part 1 of 4"

Captain America

Captain America and the Falcon

Captain America Annual #10 (May 1991): "Cap and Company"

Captain America: The Legend #1 (Sep. 1996)

Earth X #2 (May 1999): "Chapter Two"

The Falcon

Fantastic Four: The World's Greatest Comics Magazine! #4 (May 2001): "The Merciless Menace of MODOK!"

Iron Man (vol. 1) #39 (July 1971): "A Twist of Memory-- A Turn of Mind!"

Marvel Double-Shot #2 (Feb. 2003): "The Roots of All Evil"
(2-panel cameo)

Marvel Fanfare (vol. 2) #1 (Sep. 1996): "Fateful Choices"

Marvel Team-Up

Marvel Universe: The End #1 (May 2003): "Predestination"

The New Avengers 100 Project (May 2011)

Thunderbolts (vol. 1) #105 (Oct. 2006): "Swimming with Sharks"

Suggested links for further research about this character and the character's religious affiliation:
- http://comicbookdb.com/character.php?ID=11919
- http://marvel.wikia.com/wiki/Redwing_(Earth-616)
- http://www.comicvine.com/redwing/29-59930/
- http://www.marvunapp.com/master/red.htm
- https://www.comics.org/issue/22963/
- http://comicbookdb.com/issue.php?ID=1456