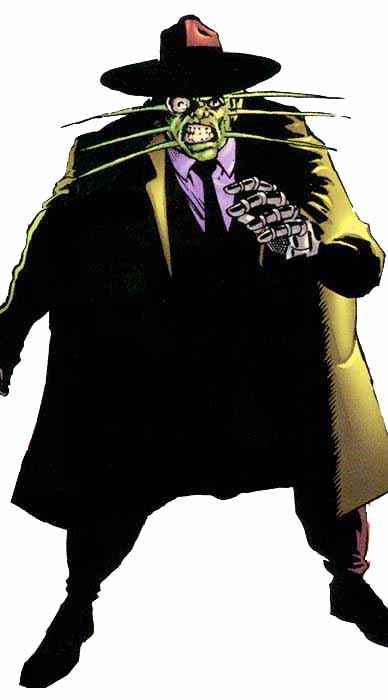 Terror


Shreck

Religion: not determined yet

Name: Terror

Alter Ego: Shreck

Other Names: "Don Shreck"; Terror, Inc.

Classification:

hero
Publisher(s):

First Appearance: St. George #2 (Aug. 1988): "The Thing in the Closet"
First Appearance (Additional Details): (as Shreck) St. George #2 (Aug. 1988): "The Thing in the Closet"; (as Terror) Daredevil (vol. 1) #305 (June 1992): "Under the Knife"
Creators: D. G. Chichester, Margaret Clark, Klaus Janson
Super? (Has Super Powers/Special Abilities/Technology): Yes
Number of Appearances: 60
Teams/Affiliations: League of Losers
Gender: male
One might wonder: What is the connection between "Terror" (also known as "Shreck") of the Shadowline Earth, and "Terror" (also known as "Don Shreck") of mainstream Marvel Earth? Obviously these name pairs are too similar (essentially identical) to be a coincidence. But Shadowline characters were typically not part of mainstream (Earth 616) Marvel Earth.
Well, Terror is an exception to this general rule. Terror really did originate on Shadowline Earth. He was a member of the hidden race of people known as "Shadows." But he really did re-locate to the Earth 616 - the mainstream Earth most Marvel comics take place on. Terror is apparently the most prominent Shadowline character to make such a migration.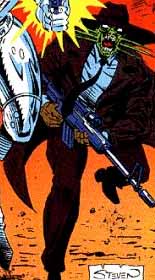 This character is in the following 33 stories which have been indexed by this website:

Blood and Glory: Punisher/Captain America #3 (Dec. 1992): "Establish the Blessings of Liberty"

Critical Mass #3 (Mar. 1990): "Beating the Devil's Tatoo"

Daredevil

Deadpool / GLI - Summer Fun Spectacular #1 (Sep. 2007): "Squirrel Girl Interludes"
(cameo)

Marvel Team-Up (vol. 3) #25 (Dec. 2006): "Titannus Lives! Part Two"

Marvel Year-in-Review #4 (1992)

Silver Sable and the Wild Pack

St. George #2 (Aug. 1988): "The Thing in the Closet"

Terror Inc.

Terror, Inc.: Apocalypse Soon

Suggested links for further research about this character:
- http://en.wikipedia.org/wiki/Terror_Inc.
- http://www.marvunapp.com/Appendix/terrorsh.htm
- http://www.comicvine.com/terror-inc/29-13750/
- http://www.comicboards.com/marvelguide/t.htm
- http://www.marvunapp.com/master/teotez.htm
- http://www.marvunapp.com/master/shjshz.htm