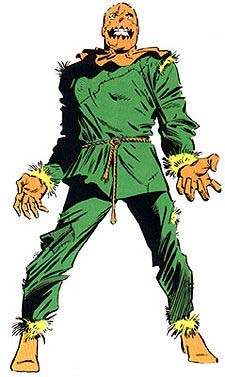 Scarecrow


Ebenezer Laughton

Religion: not determined yet

Name: Scarecrow

Alter Ego: Ebenezer Laughton

Other Names: Umberto the Uncanny; Uncanny Umberto; Scarecrow I

Publisher(s):

First Appearance: Tales of Suspense (vol. 1) #51 (Mar. 1964): "The Sinister Scarecrow!"
Super? (Has Super Powers/Special Abilities/Technology): Yes
Number of Appearances: 43
Teams/Affiliations: Crime Wave; Hood's Army; Initiative; Thunderbolts Army
Enemy of: Mr. Burns, Mrs. Burns, Coalition for an Upstanding America, Mr. Buckley
Birth Place: Rhineback, New York, USA
Race: white
Gender: male
Among his other many villainous exploits, Scarecrow was a member of the short-lived super-villain team "Crime Wave," which was organized by the Cowled Commando (secretly NYPD police sergeant Brian Muldoon) as a way to push the city to provide a stronger police force. Crime Wave appeared in Captain America (vol. 1) #s 157-159.
This character is in the following 26 stories which have been indexed by this website:

Avengers: Deathtrap, The Vault (Sep. 1991): "Deathtrap, the Vault"

Captain America

Doctor Strange, Sorcerer Supreme #31 (July 1991): "TBOTV: A Gathering of Fear, Part 1"

Ghost Rider / Captain America: Fear (Oct. 1992): "Fear"

The New Avengers

Tales of Suspense (vol. 1) #51 (Mar. 1964): "The Sinister Scarecrow!"

Thunderbolts

The Uncanny X-Men (vol. 1) #138 (Oct. 1980): "Elegy"
(1-panel cameo)

Untold Tales of Spider-Man

The X-Men

Suggested links for further research about this character:
- http://www.marvel.com/universe/Thunderbolts
- http://www.comicboards.com/marvelguide/s.htm
- http://www.marvunapp.com/master/sbscar.htm
- http://www.marvunapp.com/master/unuq.htm
- http://www.marvunapp.com/master/thosthz.htm
- http://www.marvunapp.com/master/cracri.htm
- http://www.comicboards.com/marvelguide/c4.html