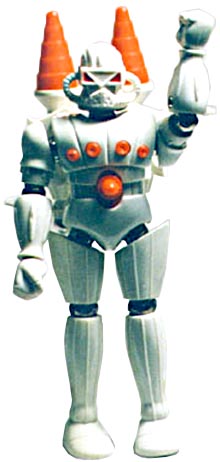 The Religious Affiliation of


Force Commander


Prince Argon

Religion: Microverse religion (wore sacred armor)

Name: Force Commander
Alter Ego: Prince Argon
Classification:

hero
Publisher(s):

First Appearance: The Micronauts (vol. 1) #1 (Jan. 1979): "Homeworld!"
Creators: Bill Mantlo, Michael Golden, Joe Rubinstein
Super? (Has Super Powers/Special Abilities/Technology): Yes
Number of Appearances: 17
Teams/Affiliations: Micronauts
Enemy of: Baron Karza
Gender: male
Note: wore sacred armor first worn by Dallan Rann
Prince Argon was the son of Dallan and Sepsis Rann, who were the rules of Homeworld until Baron Karza murdered them and took over the planet. Prince Argon donned the sacred armor his father had worn and thus became the heroic rebel leader "Force Commander." He led the Micronauts in their resistance to Karza until Karza slew him and took over his body.
The orthodox Microverse religion of Homeworld (centering on the Enigma Force) was apparently very important to Prince Argon's parents. Argon himself was apparently raised in this faith. The religion was important enough to him that he wore what he regarded as "sacred" armor after his now-deified parents were killed.
This character is in the following 2 stories which have been indexed by this website:

The Micronauts

Suggested links for further research about this character and the character's religious affiliation:
- http://www.comicvine.com/argon/29-32988/
- http://en.wikipedia.org/wiki/Micronauts_(comic_book)
- http://www.marvunapp.com/master/for.htm