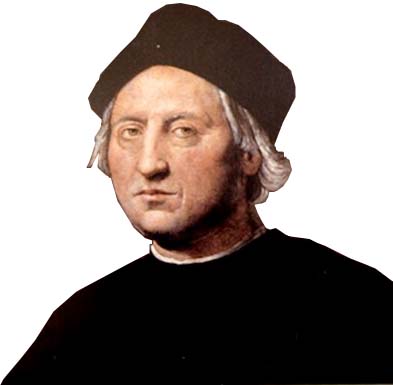 The Religious Affiliation of


Christopher Columbus


Religion: Catholic

Name: Christopher Columbus
Other Names: Christoffa Corombo; Cristobal Colon; Christophorus Columbus; Admiral of the Ocean Sea; Viceroy and Governor of the Indies
Classification:

real/historical person
Publisher(s):

Earliest Appearance Listed in This Database: Christopher Columbus (1904)
Creators: Lucien Nonguet, Vincent Lorant-Heilbronn, Vincenzo Denizot (actor)
Number of Appearances: 56
Comic Book Appearances: 12
TV, Film Appearances: 43
Video Game, Computer Game Appearances: 1
Occupation: explorer, navigator
Nation: Spain
Gender: male
In the story titled "The Super-Duel in Space" in Action Comics #242 (July 1958), reporters Lois Lane and Clark Kent are passengers on a craft named The Columbus, which is "the first experimental spaceship with humans aboard!" This vessel, apparently launched by NASA or a DC Universe analogue, was obviously named after the famed explorer Christopher Columbus.
It is interesting to note that this Earth-originated space craft was featured in a comic with a July 1958 cover date. This is the exact same month that the real NASA was established. NASA was established on 29 July 1958.
There are probably many references to Columbus in comics (including DC comics) before this one.
This character is in the following 6 stories which have been indexed by this website:

Action Comics (vol. 1) #242 (July 1958): "The Super-Duel in Space"
(mentioned)

Captain America (vol. 1) #163 (July 1973): "Beware of Serpents!"
(mentioned)

Christopher Columbus (1904)
(lead character)

Fantastic Four: What Lies Between (2007)
(mentioned)

Nextwave: Agents of H.A.T.E. #6 (Aug. 2006)
(mentioned)

Superman (vol. 1) #67 (Nov.-Dec. 1950): "If Columbus had followed his original plan..."
(lead character)

Suggested links for further research about this character and the character's religious affiliation:
- http://en.wikipedia.org/wiki/Christopher_Columbus
- http://www.imdb.com/character/ch0009978/
- http://www.comicvine.com/christopher-columbus/29-39871/
- http://comicbookdb.com/character.php?ID=9581