"Jock" Jackson


Andrew Jackson

Religion: not determined yet

Name: "Jock" Jackson

Alter Ego: Andrew Jackson

Other Names: Andrew "Jock" Jackson

Classification:

hero

based on a real person
Publisher(s):

First Appearance: Thor (vol. 1) #426 (Nov. 1990): "Aftermath!"
Creators: Ron Frenz, Tom DeFalco, Dan Panosian, Joe Sinnott
Number of Appearances: 24
Teams/Affiliations: Code: Blue
Occupation: police
Gender: male
Note: combat specialist; special forces police officer
Andrew Jackson, police officer who is member of Code: Blue, may well be named after President Andrew Jackson, the 7th President of the United States. Neither "Andrew" nor "Jackson" are particularly unusual names. But surely Officer Andrew Jackson's parents were not completely unaware of their child's namesake when they chose the name "Andrew"?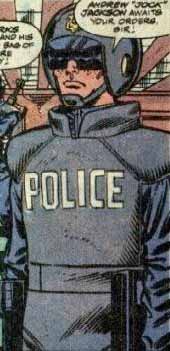 This character is in the following 6 stories which have been indexed by this website:

Captain America (vol. 1) #426 (Apr. 1994): "Graven Images"
(2-panel cameo)

Darkhawk #23 (Jan. 1993): "Betrayal!"

Marvel Comics Presents (vol. 1) #112 (Oct. 1992): "Typhoid's Kiss Part 4: Push My Buttons"

Silver Sable and the Wild Pack #27 (Aug. 1994): "On the Loose"

Thor (vol. 1) #426 (Nov. 1990): "Aftermath!"

Thunderstrike (vol. 1) #1 (June 1993): "Blood Without Glory!"

Suggested links for further research about this character:
- http://www.marvunapp.com/Appendix/codeblue.htm
- http://www.marvunapp.com/master/jaajac.htm
- http://www.comicboards.com/marvelguide/c3.html