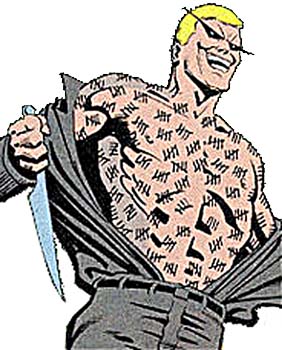 The Religious Affiliation of


Zsasz


Victor Zsasz

Religion: manifestly non-religious

Name: Zsasz
Alter Ego: Victor Zsasz
Other Names: Mr. Zsasz
Classification:

villain
Publisher(s):

First Appearance: Batman: Shadow of the Bat #1 (June 1992): "The Last Arkham: Part One"
Creators: Alan Grant, Norm Breyfogle
Super? (Has Super Powers/Special Abilities/Technology): Yes
Number of Appearances: 53
Comic Book Appearances: 50
TV, Film Appearances: 1
Video Game, Computer Game Appearances: 2
Enemy of: Batman
Race: white
Gender: male
Note: serial killer
This character is in the following 10 stories which have been indexed by this website:

Azrael: Agent of the Bat #47 (Dec. 1998): "Road to No Man's Land: Wax Man and the Clown"

Batman and the Outsiders (vol. 2) #11 (Nov. 2008): "Outsiders No More: Part 1"
(1-panel cameo)

Batman: Battle for the Cowl

Batman: Shadow of the Bat

Joker: Last Laugh #5 (Dec. 2001): "Mad, Mad World"

Showcase '94

Suggested links for further research about this character and the character's religious affiliation:
- http://www.imdb.com/character/ch0000270/
- http://www.dcuguide.com/who.php?name=zsasz
- http://www.dcuguide.com/chronology.php?name=zsasz
- http://comicbookdb.com/character.php?ID=528
- https://www.comics.org/issue/51408/
- http://comicbookdb.com/issue.php?ID=16365