The Religious Affiliation of


Ardina


Religion: tabula rasa

Name: Ardina
Classification:

supporting character
Publisher(s): Fireside Books


First Appearance: The Silver Surfer (1978)
Creators: Stan Lee, Jack Kirby, Joe Sinnott
Number of Appearances: 5
Ally: Silver Surfer
Race: white
Gender: female
Note: created by Galactus from Shalla Bal's genetic material
Galactus created Ardina using Shalla Bal's genetic material combined with the power of the Silver Surfer. Ardina fell in love with the Silver Surfer, but then she was reabsorbed into the matrix by Galactus.
Another version of Ardina was later created by the sorceress Clea using a spell invoking Hecate, Demeter and Apalla. This Ardina was the feminine aspect of the Silver Surfer. She appeared in The Order #s 4, 5 and 6.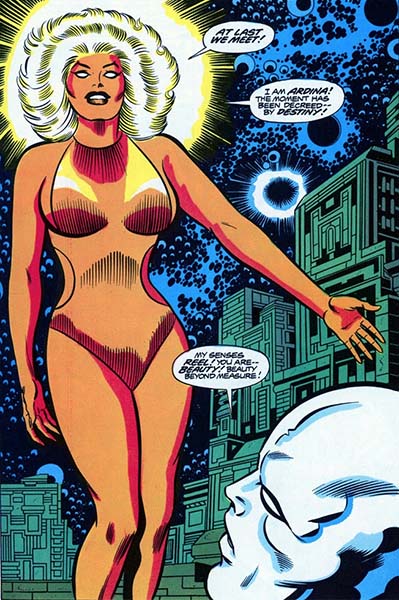 This character is in the following 5 stories which have been indexed by this website:

Civil War: Battle Damage Report #1 (Mar. 2007)

The Order

The Silver Surfer (1978)

Suggested links for further research about this character and the character's religious affiliation:
- http://marvel.wikia.com/wiki/Ardina_(Earth-616)
- http://comicbookdb.com/character.php?ID=9388
- http://www.marvunapp.com/master/araarh.htm
- https://www.comics.org/issue/32903/
- http://comicbookdb.com/issue.php?ID=57195
- https://peerlesspower.blogspot.com/2014/04/enter-master-of-guile.html
- http://www.marvunapp.com/Appendix/earthmoeb02.htm#Ardina