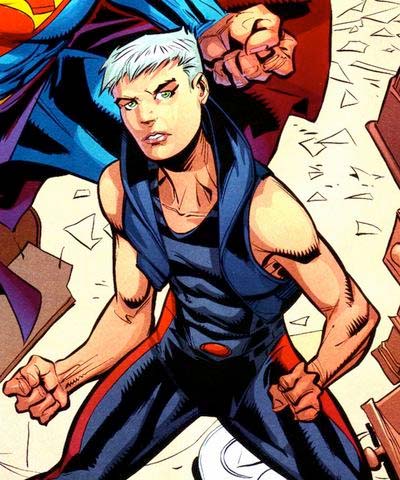 The Religious Affiliation of


Karsta Wor-Ul


Religion: Kryptonian religion

Name: Karsta Wor-Ul
Other Names: Kristen Wells; Superwoman; The Third Kryptonian
Classification:

supporting character
Publisher(s):

First Appearance: Superman (vol. 1) #668 (Early Dec. 2007): "The Third Kryptonian, Part One: The Hunt"
Creators: Kurt Busiek, Rick Leonardi, Dan Green
Super? (Has Super Powers/Special Abilities/Technology): Yes
Number of Appearances: 3
Enemy of: Amalak
Planet: Krypton
Race: Kryptonians
Gender: female
Kryptonian refugee Karsta Wor-Ul recounted her origin to Superman in Superman #669. In panel 6 on page 6, she says, "I'm Karsta Wor-Ul, from the Ansomlands. I was Sub-Command Third under Dru-Zod, one of the proud and strong. I did peacekeeping duty on the possession worlds."
Superman asked, "Zod? Was that General Zod?"
Karsta continues, "Glasslords, no. Dru-Zod was an admiral. Stellar Navy all the way. It was generations ago, at the height of the Kryptonian Empire."
Karsta continues in panel 1 on page 7: "Or better I should say -- at the end of the Empire . . ."
Panel 1 on page 7 shows Karsta's memory of herself and other Kryptonian soldiers discussing recent news. One Kryptonian says, "Recalled to Krypton? What, all of us? But why?"
Another Kryptonian says, "Elections. Old Har-Zod thought he had a lock on his position. He thought wrong. Military Council's out. Bav Sor-El's Science Council is in. Navy's shutting down."
In panel 2 on page 7, Karsta continues her story: "It was true. They'd decided, back home, that the Empire was immoral. Tyrannical. That the power we had under other suns was corrupting. We were ordered back to lunar position, around Wegthor, so the fleet could be decommissioned and dismantled."


Suggested links for further research about this character and the character's religious affiliation:
- http://comicbookdb.com/character.php?ID=19011
- https://www.comics.org/issue/374582/
- http://comicbookdb.com/issue.php?ID=108272