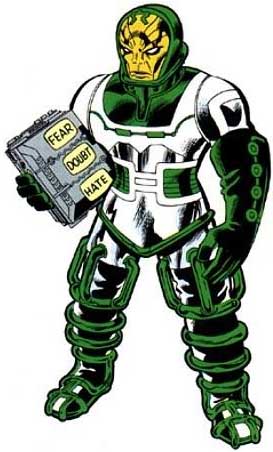 The Religious Affiliation of


Psycho-Man


Religion: alien religion

Name: Psycho-Man
Other Names: Psycho Man; Revka Temerlune Edifex; Scyros III; The King with no enemies
Classification:

villain

scientist
Publisher(s):

First Appearance: Fantastic Four Annual #5 (Nov. 1967): "Divide--and Conquer!"
Creators: Stan Lee, Jack Kirby, Frank Giacoia
Super? (Has Super Powers/Special Abilities/Technology): Yes
Number of Appearances: 64
Enemy of: The Fantastic Four
Occupation: scientist
Planet: Traan, Microverse
Gender: male
Note: chief scientist; invoked Microverse deity Suvius
Psycho-Man is a very evil alien scientist character. In regards does not seem very religious. But he invoked the Microverse deity Suvius (with the utterance "Shadows of Suvius") in Micronauts (vol. 1) #17. Psycho-Man may hold to an alien religion native to his race, at least nominally, but this aspect of his character has not been dealt with very much.
This character is in the following 10 stories which have been indexed by this website:

Dark Reign Files #1 (Apr. 2009)

Fantastic Four Annual

Fantastic Four: What Lies Between (2007)

Marvel Knights 4

Secret Wars II #2 (Aug. 1985): "I'll Take Manhattan..."

Suggested links for further research about this character and the character's religious affiliation:
- http://www.comicvine.com/psycho-man/29-7112/
- http://comicbookdb.com/character.php?ID=5813
- http://www.comicboards.com/marvelguide/microverse.html
- http://www.marvunapp.com/master/pspt.htm
- http://www.marvunapp.com/master/supsuz.htm
- http://marvel.wikia.com/Fantastic_Four_Annual_Vol_1_5
- https://www.comics.org/issue/21404/
- http://comicbookdb.com/issue.php?ID=37394