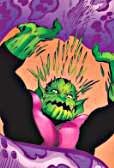 The Religious Affiliation of


R'Tee


Religion: Skrull religion

Name: R'Tee
Classification:

supporting character
Publisher(s):

First Appearance: X-Men (vol. 2) #97 (Feb. 2000): "The End of the World as We Know It: Part 2"
NOTE: This is our current best assessment of the first appearance of this character, but this has been flagged in our database as uncertain.
Creators: Alan Davis, Terry Kavanagh, Mark Farmer
Super? (Has Super Powers/Special Abilities/Technology): Yes
Number of Appearances: 1
Teams/Affiliations: Cadre K
Race: Skrull
Gender: male

This character is in the following 6 stories which have been indexed by this website:

Maximum Security

Maximum Security: Dangerous Planet #1 (Oct. 2000): "A Very Dangerous Planet"

The Uncanny X-Men (vol. 1) #387 (Dec. 2000): "Cry Justice, Cry Vengeance!"
(cameo)

X-Men

Suggested links for further research about this character and the character's religious affiliation:
- http://www.comicvine.com/rtee/29-41222/
- http://www.marvunapp.com/master/rprz.htm
- http://en.wikipedia.org/wiki/Cadre_K
- http://marvel.wikia.com/wiki/Cadre_K_(Earth-616)
- http://www.marvunapp.com/master/caacak.htm