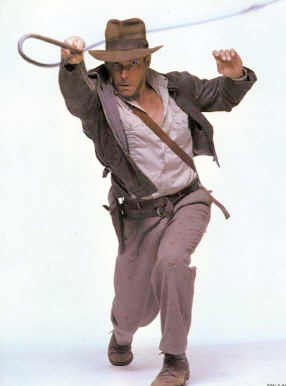 The Religious Affiliation of


Indiana Jones


Dr. Henry Walton Jones, Jr.

Religion: Christian (denomination unknown); eclectic

Name: Indiana Jones
Alter Ego: Dr. Henry Walton Jones, Jr.
Other Names: Henry Jones
Classification:

hero
First Appearance: Raiders of the Lost Ark (1981) - film 1 in Indiana Jones series
Creators: George Lucas, Philip Kaufman, Lawrence Kasdan, Steven Spielberg, Harrison Ford (actor)
Number of Appearances: 243
Comic Book Appearances: 114
TV, Film Appearances: 47
Video Game, Computer Game Appearances: 4
Prose/Text Book/Story Appearances: 78
Ally: Marion Ravenwood
Ally: George McHale
Occupation: archaeologist, professor, soldier
Worked for: Barnett College, Marshall College, O.S.S.
Nation: USA
Gender: male
Wikipedia (12 November 2008): Because of Indiana's strained relationship with his father, a Christian searching for the Holy Grail, the character rejects the spiritual side of the profession he has followed in. The inconsistency of the three films is that after appearing to become a believer in Judaism (in Raiders), Hinduism (in Doom) and Christianity (Crusade), Indiana reverts back in the next film, Kingdom of the Crystal Skull. Temple of Doom, chronologically the earliest of the films, has Indiana as a mercenary, searching for "fortune and glory". Indiana uses his knowledge of Shiva to ultimately defeat Mola Ram. In Raiders, the cynical Indiana chooses to close his eyes in the presence of the spirits who have been disturbed from their slumber in the Ark of the Covenant. By contrast, his rival Rene Belloq is killed for trying to communicate directly with God.
In Crusade's prologue, Indiana's intentions are revealed as social, as he believes artifacts "belong in a museum". In the film's climax, Indiana undergoes "literal" tests of faith to retrieve the Grail and save his father's life. He also recognizes Jesus as a humble carpenter when he recognizes the simple nature and tarnished appearance of the real Grail amongst a large assortment of much more ornately decorated ones. Henry Senior rescues his son from falling to his death when reaching for the fallen Grail, telling him to "let it go", overcoming his mercenary nature. The Young Indiana Jones Chronicles explains how Indiana becomes solitary and less idealistic after fighting in World War I. In Indiana Jones and the Kingdom of the Crystal Skull, Jones is older and wiser, whereas his sidekicks Mutt and Mac are youthfully arrogant and greedy, respectively.
Indiana Jones was featured in 4 feature films, 40 episodes of The Young Indiana Jones Chronicles, at least 144 separate issues of comics, plus novels, video games, and other media.
This character is in the following 5 stories which have been indexed by this website:

Captain America

Indiana Jones and the Last Crusade (1989)
(lead character)

Raiders of the Lost Ark (1981) - film 1 in Indiana Jones series
(lead character)

The Young Indiana Jones Chronicles - Season 2, Episode 12 (12 June 1993): "Ireland, April 1916"
(lead character)

Suggested links for further research about this character and the character's religious affiliation:
- http://en.wikipedia.org/wiki/Indiana_Jones
- http://en.wikipedia.org/wiki/Indiana_Jones_(franchise)
- http://en.wikipedia.org/wiki/Indiana_Jones_comic_books
- http://www.imdb.com/character/ch0001063/
- http://www.comicvine.com/indiana-jones/29-13767/
- http://comicbookdb.com/character.php?ID=965
- http://www.timboucher.com/journal/2005/08/21/the-religion-of-indiana-jones/
- http://www.imdb.com/title/tt0082971/