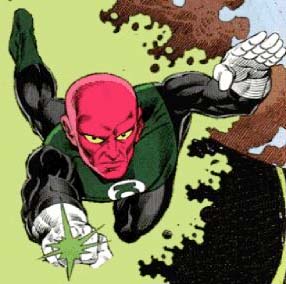 The Religious Affiliation of


Abin Sur


Religion: Ungaran religion; spirit

Name: Abin Sur
Classification:

hero
Publisher(s):

First Appearance: Showcase #22 (Sep.-Oct. 1959): "SOS Green Lantern"
Creators: John Broome, Gil Kane, Joe Giella
Super? (Has Super Powers/Special Abilities/Technology): Yes
Number of Appearances: 22
Teams/Affiliations: Green Lantern Corps
Ally: Green Lantern (Hal Jordan)
Occupation: professor
Planet: Ungara
Gender: male
Note: imparted Green Lantern power ring to Hal Jordan
Abin Sur is the central figure in the origin story of Hal Jordan, the best-known and greatest of Earth's Green Lanterns. It was the dying alien Abin Sur who imparted his own Green Lantern power ring to test pilot Hal Jordan.
Little has been revealed about the religious beliefs of the Ungarans, Abin Sur's native race. But there are overt religious elements in many of the stories in which the character has appeared. The soul of Abin Sur has been encountered a number of times. He has been shown in the afterlife.
Abin Sur, a history professor by profession, was a noble individual while alive who came be regarded as one of the greatest heroes of the Ungaran people. He was a person of great character who exhibited ethical, self-sacrificing behavior. The extent to which he was a devout, orthodox participant in predominant Ungaran religion is not yet clear, but nothing has been published suggesting he was in any way unorthodox or non-religious.
Aside from Ungaran religion and his membership in the Green Lantern Corps, it appears that the prophecies of the demon known as Qull of the Five Inversions, on the planet Ysmault (throneworld of the Empire of Tears) had a significant impact on Abin Sur.
This character is in the following 9 stories which have been indexed by this website:

Green Lantern

Green Lantern Corps Quarterly #8 (Spring 1994): "Close Encounters"
(lead character)

Justice League of America (vol. 2) #4 (Jan. 2007): "The Tornado's Path, Chapter Four: Being Human"
(mentioned)

Showcase

Suggested links for further research about this character and the character's religious affiliation:
- http://www.dcuguide.com/profile.php?name=abinsur
- http://www.dcuguide.com/chronology.php?name=abinsur