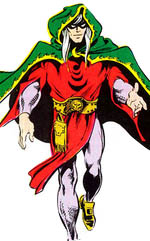 The Religious Affiliation of


Modred the Mystic


Modred

Religion: sorcerer

Name: Modred the Mystic
Alter Ego: Modred
Publisher(s):

First Appearance: Marvel Chillers #1 (Oct. 1975): "...Magic is Alive!"
Creators: Marv Wolfman, Bill Mantlo, Ed Hannigan, Yong Montano, John Romita, Frank Giacoia
Super? (Has Super Powers/Special Abilities/Technology): Yes
Number of Appearances: 39
Teams/Affiliations: Darkhold Redeemers
Occupation: sorcerer's apprentice
Nation: England, United Kingdom
Birth Place: London, England, United Kingdom
Race: white
Gender: male
Note: emissary of Chthon
Modred the Mystic was born just outside London, England in the 6th century A.D.
This character is in the following 13 stories which have been indexed by this website:

Captain America

Dark Reign Files #1 (Apr. 2009)

The Defenders (vol. 1) #11 (Dec. 1973): "A Dark and Stormy Knight"

Doctor Strange, Sorcerer Supreme #9 (Nov. 1989): "TBOTV: The Curse of the Darkhold, Part 1: The Montesi Formula"

Essential Spider-Woman #1 (21 Dec. 2005): "From Stonehenge... with Death!"
(lead character)

Marvel Chillers

Marvel Two-in-One (vol. 1) #33 (Nov. 1977): "From Stonehenge... with Death!"
(lead character)

The Mighty Avengers

The New Avengers (vol. 1) #53 (July 2009)
(1-panel cameo)

Suggested links for further research about this character and the character's religious affiliation:
- http://en.wikipedia.org/wiki/Modred_the_Mystic
- http://comicbookdb.com/character.php?ID=5932
- http://www.marvunapp.com/master/mjmaol.htm
- http://www.marvunapp.com/master/darkddkm.htm
- http://www.comicboards.com/marvelguide/m3.html
- https://www.comics.org/issue/29123/
- http://comicbookdb.com/issue.php?ID=13168