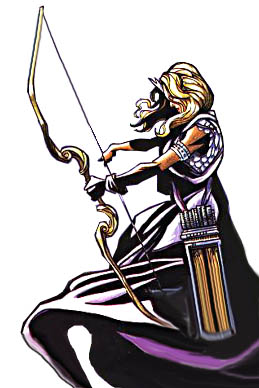 The Religious Affiliation of


Telesthene


Tina Kalkstein

Religion: fundamentalist Environmentalist; Animal Rights

Name: Telesthene
Alter Ego: Tina Kalkstein
Other Names: Artemis
Classification:

villain
First Appearance: Shadow Cabinet #3 (Aug. 1994): "True Friends in Deed"
Creators: Robert L. Washington III, John Paul Leon, Shawn Martinbrough
Super? (Has Super Powers/Special Abilities/Technology): Yes
Number of Appearances: 2
Teams/Affiliations: Arcadian League (leader); The Shadow Cabinet; The Star Chamber
Enemy of: Sideshow, Arthur Rand
Employer: savvy eco-huntress
Employer: eco-terrorist
Occupation: activist, terrorist
Nation: USA
Race: white
Gender: female
At this time, we have combined the entries for Telesthene (Tina Kalkstein) and Artemis, but we are not certain if these are the same character.
Sideshow was a member of Shadow Cabinet. His quest to find his father and learn about his father's many secrets brought him face to face with Telesthene, a "savvy Eco-Huntress" who was a member of the Arcadian League.
Summary of Shadow Cabinet #3 (Aug. 1994), from now-defunct webpage at http://milestone.luthor.com/comics_detail.asp?ID=276&:
Iron Butterfly and Sideshow are stopping poachers in the Brazilian rain forest. Sideshow is refused help for a personal mission. He gets unofficial help from Mechanic, Blitzen and Donner. We catch up on some Shadow Cabinet gossip. Sideshow begins a search for the Arcadian League. Sideshow infiltrates the group and ends up coming face to face with Telesthene.
Summary of Shadow Cabinet #4 (Sep. 1994), from now-defunct webpage at http://milestone.luthor.com/comics_detail.asp?ID=278&:
Telesthene and her powers are introduced as Sideshow survives the Arcadian League's initiation. Sideshow finds his dad as his cover is eventually blown. Donner and Blitzen track after Sideshow. Sideshow attempts to escape with his dad from Telesthene. Sideshow and Telesthene have a mental confrontation. We learn of Sideshow's multiple personalities. Sideshow takes out Telesthene but has severe reservations concerning Dharma.
From "Star Chamber" members list on "Shadow Cabinet" Wikipedia page at http://en.wikipedia.org/wiki/Shadow_Cabinet_(comics) Star Chamber (text present circa 2008 but removed by 2009):
Artemis - veterinarian and animal-rights activist; had mind-control abilities over animals; was later killed in self defense by another operative
From "Sideshow" page on Comicvine website (http://www.comicvine.com/sideshow/29-63070/):
Sideshow's deep loyalty to Dharma caused him to react more strongly than other members of the team when Dharma mistreated them. Ramon was enraged when Dharma refused to lend any Shadow Cabinet resources to help Ramon rescue his father. Arthur had been kidnapped by the eco-terrorists known as the Arcadian League for ransom, but Randcorp refused to pay. Sideshow angrily set off to rescue his father himself, but was joined by fellow Shadow Cabinet members Donner and Blitzen, much to his surprise. Donner and Blitzen helped Ramon with his personal quest infiltrate the eco-terrorists behind Dharma's back. Ramon spent days researching and formulating a plan, throwing himself in direct danger to rescue his father. He hoped Arthur would accept responsibility for what happened to him, or maybe even offer an apology. Instead, Arthur tells Ramon that he was not part of the group which tried to kill him, but he approves of their decision. Arthur compared Ramon's spying to "letting one child destroy the other." Rejected and miserable, Sideshow returned to the Shadowspire only to discover that Dharma had ordered Telesthene, the leader of the eco-terrorists, to kidnap Arthur. Dharma had anticipated Ramon would rescue his father and take out Telesthene, a Shadow Cabinet operative who was becoming a liability, in the process. This deception only widened the rift growing between Dharma and Sideshow.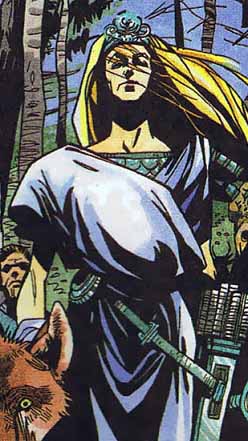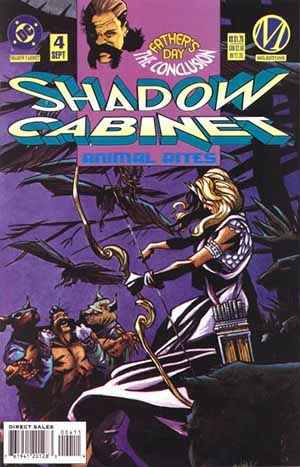 This character is in the following 2 stories which have been indexed by this website:

Shadow Cabinet

Suggested links for further research about this character and the character's religious affiliation:
- http://comicbookdb.com/character.php?ID=54050
- http://www.comicvine.com/artemis/29-74715/
- http://dc.wikia.com/wiki/Tina_Kalkstein_(Dakotaverse)
- http://www.comicvine.com/sideshow/29-63070/
- http://en.wikipedia.org/wiki/Shadow_Cabinet_(comics)
- http://comicbookdb.com/team.php?ID=3231
- http://comicbookdb.com/issue.php?ID=62063
- http://dc.wikia.com/wiki/Shadow_Cabinet_Vol_1_3
- http://www.comicvine.com/shadow-cabinet-fathers-day-part-two-im-bugged-at-my-old-man-and-he-dont-even-know-where-its-at/37-39663/