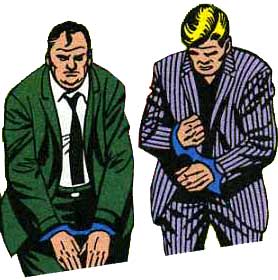 Bolton Boys


Religion: indeterminate

Name: Bolton Boys

Other Names: The Bolton Boys

Classification:

villain
Publisher(s):

First Appearance: World's Finest Comics (vol. 1) #184 (May 1969): "Robin's Revenge"
Creators: Cary Bates, Curt Swan, Jack Abel
Number of Appearances: 1
Enemy of: Robin
Occupation: criminal
Gender: male
The Bolton Boys were criminals who appeared in one panel in "Robin's Revenge" in World's Finest Comics #184 (May 1969). In this "imaginary story," Robin and the rest of the world thought that Batman had been murdered by the Automator. (Actually, Batman had been teleported away, held captive, and brainwashed by the villain.) Robin went to Keyer University and while there continued his super-heroic career. Panel 5 on page 7 of this story, the narrative text reads: "The maturing Boy Wonder's crusade against crime swings with more fury than ever before, but . . ."
The panel shows the now-adult Robin walking to a police desk sergeant's desk, bringing in two criminals, their hands cuffed with bat-cuffs. Robin says, "Here are the last of the Bolton Boys, Sergeant!"
Robin thinks to himself, "I've captured hundreds of criminals since Batman's murder . . . but still no sign of the Automator! What's happened to him? Where is he hiding?"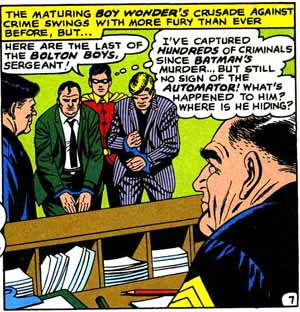 This character is in the following story which has been indexed by this website:

World's Finest Comics (vol. 1) #184 (May 1969): "Robin's Revenge"
(1-panel cameo)

Suggested links for further research about this character:
- https://www.comics.org/issue/22711/
- http://comicbookdb.com/issue.php?ID=88210