Joey Stagg


Religion: not determined yet

Name: Joey Stagg

Other Names: Joey Mason

Classification:

supporting character
Publisher(s):

First Appearance: Justice League Europe #11 (Feb. 1990): "Family Ties"
NOTE: This is our current best assessment of the first appearance of this character, but this has been flagged in our database as uncertain.
Creators: Keith Giffen, Bill Loebs, Bart Sears
Super? (Has Super Powers/Special Abilities/Technology): Yes
Number of Appearances: 24
Family/Relatives: Metamorpho (father), Sapphire Stagg (mother), Simon Stagg (grandfather)
Race: white
Gender: male
Note: son of Metamorpho and his wife Sapphire Stagg
Is Joey Stagg (the son of Metamorpho and Sapphire Stagg) the same child as the baby mentioned in The Outsiders #24 (Oct. 1987)? In that issue, Metamorpho thinks to himself (panel 3, page 4): "I oughtta be behind all right . . . back in L.A. with Sapphire and the baby. Somethin's gonna have to give, and it ain't gonna by my family."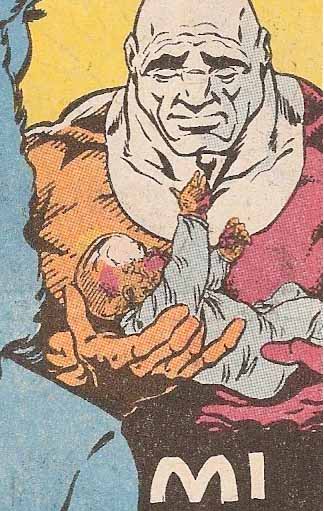 This character is in the following 3 stories which have been indexed by this website:

JLA #5 (May 1997): "Woman of Tomorrow"
(cameo)

Justice League Europe #11 (Feb. 1990): "Family Ties"

The Outsiders (vol. 1) #24 (Oct. 1987): "Night of Camp David!"
(mentioned)

Suggested links for further research about this character:
- http://dc.wikia.com/wiki/Joseph_Mason_(New_Earth)
- http://www.dcuguide.com/who.php?name=joeystagg
- http://en.wikipedia.org/wiki/Metamorpho
- http://en.wikipedia.org/wiki/Simon_Stagg
- http://dc.wikia.com/wiki/Justice_League_Europe_Vol_1_11