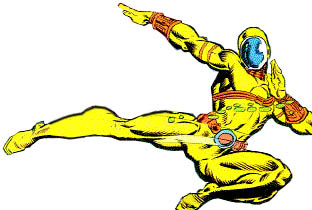 The Religious Affiliation of


Shockwave


Lancaster Sneed

Religion: Golden Dagger Sect

Name: Shockwave
Alter Ego: Lancaster Sneed
Classification:

villain
Publisher(s):

First Appearance: Master of Kung Fu #42 (July 1976): "The Clock of Shattered Time"
Creators: Doug Moench, Paul Gulacy, Tom Sutton
Super? (Has Super Powers/Special Abilities/Technology): Yes
Number of Appearances: 35
Teams/Affiliations: Hood's Army; Initiative; MI-6; Oriental Expediters; S.H.I.E.L.D.; The Masters of Evil
Enemy of: James Petrie
Occupation: circus performer, criminal, intelligence agent, mercenary
Nation: England, United Kingdom
Birth Place: Newcastle-on-Tyne, England, United Kingdom
Gender: male
Note: Was one of the S.H.I.E.L.D. Deltites.
Shockwave once tried to purchase false identification papers so that he could escape arrest during the Civil War. The mercenary Vienna (secretly working with Misty Knight as part of a sting operation) offered Shockwave papers that would have established a new identity as "Dieter Wilhelm" from Amsterdam. Shockwave never actually used this alias, however, as he was arrested before he could receive the papers.
After this arrest, Shockwave was forcibly drafted into the Initiative. He was to be trained to work as a government-sanctioned super-hero. He apparently escaped or was released before ever operating as a "hero," however. Not long after the Civil War ended, Shockwave was once again operating as a criminal.
This character is in the following 12 stories which have been indexed by this website:

Civil War: Battle Damage Report #1 (Mar. 2007)

Dark Reign Files #1 (Apr. 2009)

Heroes for Hire

Master of Kung Fu #42 (July 1976): "The Clock of Shattered Time"

The New Avengers

Thunderbolts

Union Jack

Suggested links for further research about this character and the character's religious affiliation:
- http://www.marvunapp.com/Appendix2/shockwave.htm
- http://en.wikipedia.org/wiki/Shockwave_(comics)
- http://www.comicvine.com/shockwave/29-41331/
- http://www.marvunapp.com/master/mastmasz.htm
- http://www.comicboards.com/marvelguide/s2.html
- http://www.marvunapp.com/master/shjshz.htm