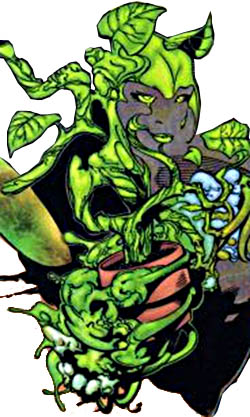 The Religious Affiliation of


Chloe


Religion: alien

Name: Chloe
Classification:

hero
Publisher(s):

First Appearance: Relative Heroes #1 (Mar. 2000): "Fate and Other Accidents"
Creators: Devin Grayson, Yvel Guichet, Aaron Sowd
Super? (Has Super Powers/Special Abilities/Technology): Yes
Number of Appearances: 6
Teams/Affiliations: Relative Heroes
Ally: Cameron
Ally: Cypher
Race: Es
Gender: female
Note: member of "Es" alien race posing as a Cameron's plant
We are not 100% certain yet that Chloe is a female. The character appeared initially as Cameron's house plant. It was only later that Chloe was revealed as a member of the alien "Es" race. Chloe transformed into a humanoid, revealing that the plant form had been a disguise, not the character's natural state. Presumably the humanoid form appeared to be either male or female, but we have not actually seen it.
Because Chloe did have a humanoid form, we assume that the character has a gender - either male or female - as do humans and most aliens depicted in comics. Because the character's name while disguised as a plant ("Chloe") is feminine, we are going to assume that the character is a female.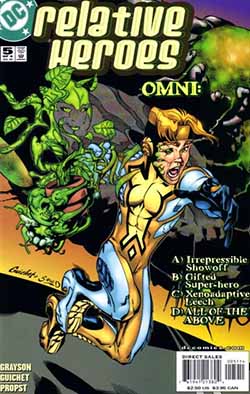 This character is in the following story which has been indexed by this website:

Relative Heroes #1 (Mar. 2000): "Fate and Other Accidents"

Suggested links for further research about this character and the character's religious affiliation:
- http://en.wikipedia.org/wiki/Relative_Heroes
- http://www.cosmicteams.com/cosmic/r.html
- http://www.dcuguide.com/who.php?name=chloetheplant