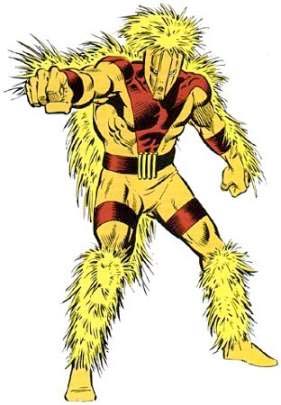 Porcupine


Alex Gentry

Religion: not determined yet

Name: Porcupine

Alter Ego: Alex Gentry

Other Names: Alexander "Alex" Gentry

Classification:

villain
Publisher(s):

First Appearance: Tales to Astonish (vol. 1) #48 (Oct. 1963): "Ant-Man and the Wasp Defy the Porcupine!"
Creators: Stan Lee, Ernie Hart (as H. E. Huntley), Don Heck
Super? (Has Super Powers/Special Abilities/Technology): Yes
Number of Appearances: 36
Teams/Affiliations: Batroc's Brigade; Crime Wave; Emissaries of Evil (Egghead); Maggia
Enemy of: The Avengers
Ally: Eel
Ally: Scarecrow
Ally: Unicorn
Employer: U.S. Government
Occupation: criminal, weapons designer
Worked for: Justin Hammer, Count Nefaria, Nebulon
Race: white
Gender: male
Among his other many villainous exploits, Porcupine was a member of the short-lived super-villain team "Crime Wave," which was organized by the Cowled Commando (secretly NYPD police sergeant Brian Muldoon) as a way to push the city to provide a stronger police force. Crime Wave appeared in Captain America (vol. 1) #s 157-159.
This character is in the following 24 stories which have been indexed by this website:

The Avengers (vol. 1) #167 (Jan. 1978): "Tomorrow Dies Today!"

Black Panther (vol. 5) #12 (Mar. 2010): "Power: Part 6"

Captain America

The Defenders

Marvel Age Annual #1 (Jan. 1985)

Tales to Astonish

The Uncanny X-Men (vol. 1) #138 (Oct. 1980): "Elegy"
(1-panel cameo)

The X-Men

Suggested links for further research about this character:
- http://www.marvel.com/universe/Porcupine_(Alexander_Gentry)
- http://comicbookdb.com/character.php?ID=1709
- http://www.comicvine.com/porcupine/29-12610/
- http://www.marvunapp.com/Appendix3/emissariesofevilegg.htm
- http://www.comicboards.com/marvelguide/p2.html
- http://www.marvunapp.com/master/poapos.htm
- http://www.marvunapp.com/master/cracri.htm
- http://www.comicboards.com/marvelguide/c4.html