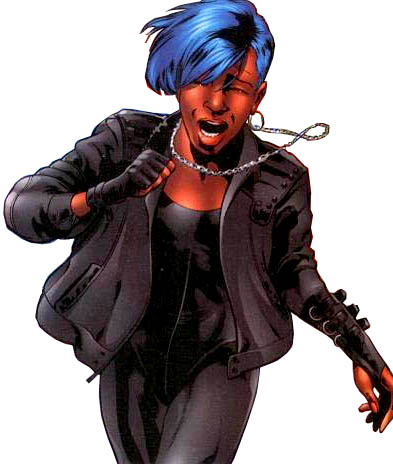 Linqon


Religion: not determined yet

Name: Linqon

Classification:

villain
Publisher(s):

First Appearance: X-Factor Special: Layla Miller #1 (Oct. 2008): "Stuff Happens"
Creators: Peter David, Valentine de Landro, Andrew Hennessy, Craig Yeung
Super? (Has Super Powers/Special Abilities/Technology): Yes
Number of Appearances: 4
Teams/Affiliations: Summers Rebellion
Ally: Layla Miller
Ally: Ruby Summers
Race: black
Gender: female
Linqon is an explosive sphere-generating female mutant. She first appeared in X-Factor Special: Layla Miller #1 (Oct. 2008). In this story, she was fleeing from authorities when Layla Miller befriended her and helped her escape. Layla introduced Linqon to the Ruby Summers and she joined the Summers Rebellion, fighting for the survival of fellow mutants. Linqon is on of the major supporting characters in this story.
Linqon was later seen battling Sentinels 80 years in the future on page 12 in X-Factor (vol. 3) #49 (Nov. 2009). She was allied with fellow mutants Ruby Summers and Hecat'e, as well as mutants from the past Layla Miller and Jamie Madrox.
Linqon mutant apparently has the power to generate glowing explosive spheres from her hands. This power is similar to that of the contemporary mutant Tabitha Smith (a.k.a. "Time Bomb" or "Boomer").
Linqon appeared again in panel 1 on page 14. She has light-brown hair worn in a simply-tied ponytail. Her form-fitting dark leather or spandex uniform has distinct ridges on the sides of her torso and the sides of her thighs.
Although Linqon is clearly a black woman in her initial appearance, X-Factor Special: Layla Miller #1, she appears far more white-skinned (looking like she is Caucasian, really) in X-Factor #s 49 and 50. Regardless of the apparent change in skin tone, this is the same character. She is explicitly identified as "Linqon" in X-Factor #50. (See page 14, panel 6.)
This character is in the following 3 stories which have been indexed by this website:

X-Factor

X-Factor Special: Layla Miller #1 (Oct. 2008): "Stuff Happens"

Suggested links for further research about this character:
- http://marvel.wikia.com/Linqon_(Earth-1191)
- http://www.comicvine.com/linqon/29-57054/
- http://marvel.wikia.com/X-Factor_Special:_Layla_Miller_Vol_1_1
- https://www.comics.org/issue/537754/
- http://comicbookdb.com/issue.php?ID=139177
- http://marvel.wikia.com/X-Factor_Vol_3_49
- http://comicbookdb.com/issue.php?ID=180919