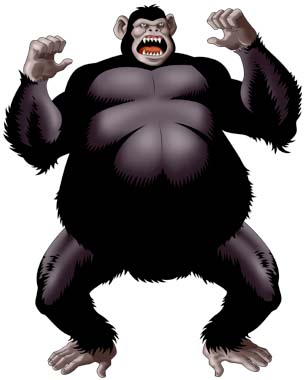 The Religious Affiliation of


Titano


Toto

Religion: N.A.

Name: Titano
Alter Ego: Toto
Classification:

villain
Publisher(s):

First Appearance: Superman (vol. 1) #127 (Feb. 1959): "Titano the Super-Ape!"
First Appearance (Additional Details): (modern) Superman Annual (vol. 2) #1 (July 1987): "Tears for Titano!"
Creators: Otto Binder, Wayne Boring, Stan Kaye
Super? (Has Super Powers/Special Abilities/Technology): Yes
Number of Appearances: 48
Enemy of: Superman, Dr. Thomas Moyers
Ally: Lois Lane
Species: chimpanzee
Gender: male
Note: chimpanzee made gigantic; based on King Kong
Titano's intelligence was enhanced to the extent that he was considered one of the most intelligent animals in the world. His main enhancement, however, was his tremendous size. He apparently never achieved human-level intelligence.
It may be debatable whether Titano should best be classified as an "uplifted animal" or a "mutated animal." However he is classified, it is clear that he started out as a normal, un-mutated chimpanzee. He was exceptionally intelligent, but not super-intelligent or intelligent beyond the level that mainline chimpanzees can be. Thus, the question of "religious affiliation" is largely "not applicable" for Titano.
Even if Titano's intelligence was enhanced considerably by his mutation, he certainly never was part of any organized religious culture such as is exhibited by some groups of uplifted animals.
This character is in the following 3 stories which have been indexed by this website:

Adventure Comics (vol. 1) #289 (Oct. 1961): "Bizarro's Amazing Buddies"

Superman

Suggested links for further research about this character and the character's religious affiliation:
- http://www.comicvine.com/titano/29-12949/
- http://en.wikipedia.org/wiki/Titano
- http://dc.wikia.com/wiki/Titano_(Earth-One)
- http://www.dcuguide.com/who.php?name=titanoprec
- http://www.dcuguide.com/chronology.php?name=titanoprec
- http://www.dcuguide.com/who.php?name=titano
- http://www.dcuguide.com/chronology.php?name=titano
- http://dc.wikia.com/wiki/Superman_Vol_1_127