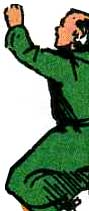 The Religious Affiliation of


Evelyn Curry


Religion: Christian (denomination unknown)

Name: Evelyn Curry
Classification:

supporting character
Publisher(s):

First Appearance: Action Comics (vol. 1) #1 (June 1938): "Superman, Champion of the Oppressed!"
Creators: Jerry Siegel, Joe Shuster
Number of Appearances: 1
Defended or Helped by: Superman
Gender: female
Note: first character ever saved by Superman
Evelyn Curry was convicted of murdering a man in a much-publicized murder case. Somehow Superman determined that she was innocent and he tracked down the real murderess. Superman obtained a signed confession from the real killer and took it to the governor's mansion. Superman managed to convince the governor to halt the execution of Evelyn Curry just minutes before she was to be put to death at the state penitentiary. The governor also granted Ms. Curry an immediate pardon.
Evelyn Curry, who had always professed her innocence, was deeply grateful. After the governor pardoned her she was seen kneeling humbly before a Christian clergyman who was on hand to witness the execution. This clergyman was apparently present at Evelyn's request. Evelyn grasped the clergyman's white robe while exclaiming: "Thank God! I told you I was innocent." From what little information is provided about Evelyn Curry, one can conclude that this clergyman was the spiritual advisor Evelyn had consulted with while on death row.
Based on the picture, the clergyman is almost certainly a Catholic or Episcopalian priest. But there is not enough visual or textual information to determine precisely what denomination the clergyman represents, nor is there any way to be certain that Evelyn was actually a member of the same denomination as the clergyman. Had Evelyn actually been Jewish, the prison would have provided a Jewish rabbi as her spiritual adviser. Given the fact that both the artist and writer of this story were Jewish, they certainly would have known how to depict a Jewish rabbi. But Siegel and Shuster envisioned Evelyn as a Christian character.
In the single panel that clearly depicts Evelyn Curry, her Christian faith certainly seems significant to her. Whether or not Mr. Curry was this penitent before her incarceration can not be known. But at this point in her life, she is the very picture of humility and gratitude.
Evelyn Curry only appeared clearly in one panel, in addition to a faintly seen photograph on the front page of a newspaper read by Clark Kent in a later panel. Yet Evelyn Curry can justifiably be identified as the first person ever saved by Superman in a Superman comic.
It is also worth noting that Evelyn Curry was mentioned by name in 3 panels. She was the second character ever named in a Superman comic (Superman was the first.) Other characters who appeared before Evelyn Curry's first on-panel appearance include the attendants at baby Clark Kent's orphanage, the real murderess apprehended by Superman, the governor, and the governor's loyal butler. But none of them are named in this story.
One more bit of utterly insignificant trivia: Evelyn Curry, the first person ever to have their life saved by Superman, shares her surname with another far more famous DC Comics character: Arthur Curry. Mr. Curry is better known as Aquaman, who along with his friend Superman was a founding member of the Justice League of America.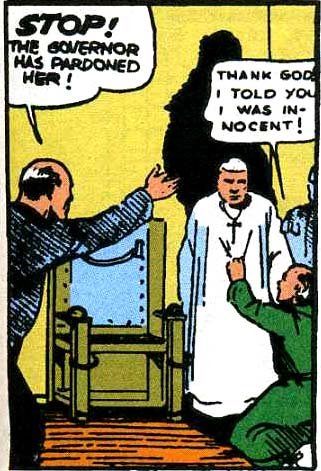 This character is in the following 2 stories which have been indexed by this website:

Action Comics (vol. 1) #1 (June 1938): "Superman, Champion of the Oppressed!"
(1-panel cameo)

Superman (vol. 1) #1 (Summer 1939): "Clark Kent Gets a Job"
(mentioned)

Suggested links for further research about this character and the character's religious affiliation:
- https://www.comics.org/issue/293/
- http://comicbookdb.com/issue.php?ID=95