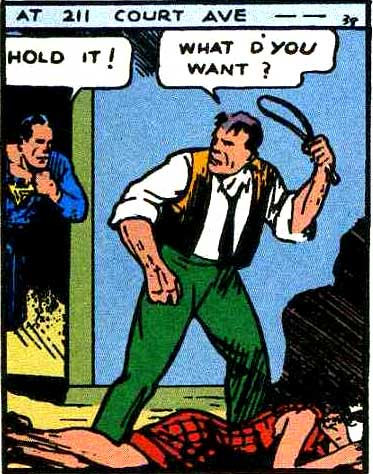 The Religious Affiliation of


unnamed wife beater


Religion: manifestly non-religious

Name: unnamed wife beater
Other Names: wife-beater
Classification:

villain
Publisher(s):

First Appearance: Action Comics (vol. 1) #1 (June 1938): "Superman, Champion of the Oppressed!"
Creators: Jerry Siegel, Joe Shuster
Number of Appearances: 1
Enemy of: Superman
Gender: male
An unnamed wife beater was the second villain ever to appear in a Superman comic. Ironically, the first villain was Bea Carroll, a lounge singer who murdered her lover for being unfaithful. Thus, Siegel and Shuster presented Superman confronting domestic violence going in both directions.
Clark Kent was at the offices of the Daily Star, the metropolitan newspaper he worked for, when a tip was called in about a "wife-beating at 211 Court Ave." We don't know if wife-beating tips were actually called in to newspaper offices in 1938, but that's whap happened in this story.
Clark Kent rushed out of the office in his civilian identity. But when he arrived at 211 Court Ave., he was dressed in his colorful Superman costume. Superman was not yet known to the public in this inaugural story, so the burly wife beater had no idea who the hero was.
The wife beater was a muscular black-haired white wearing a white dress shirt, dressy vest and necktie - which meant he was dressed like pretty much all other men who inhabited Clark Kent's world of 1938. The man had his leather belt off, and was beating his hapless wife with it. The man's wife lay prostrate on the floor, meekly covering her face with her arms.
Superman entered the home with a straightforward command: "Hold it!"
The puzzled man was unaccustomed to being confronted regarding his domestically violent behavior. "What do'you want?" he demanded.
Superman stepped forward to grab the wife beater and lift him into the air. The man apparently didn't realize the futility of his predicament. "Don't get tough!" the angry man bellowed, shaking his fists.
Superman was not entirely calm. "Tough is putting mildly the treatment you're going to get!" the colorful figure stated flatly.
Suddenly Superman hurled the wife beater at a wall, sending shards of plaster flying. Superman yelled after the cowering man: "You're not fighting a woman, now!"
The wife beater's clothes were tattered from the impact, but he recovered with surprising speed. Suddenly he had a knife in his hand and he lunged toward Superman, murder in his heart. He yelled at the hero: "Y'asked for it!"
The narration tells us: "With a sharp snap the blade breaks upon Superman's tough skin!"
Superman stared down the now fearful man, who shook while holding his broken, useless knife. Superman told him: "And now you're going to get a lesson you'll never forget!"
But before Superman could render any further lessons, the wife beater dropped forward, utterly unconscious. "Fainted," Superman observed.
The narration informs us: "Hearing police-sirens, Superman hurriedly dons street-clothes over his uniform."
Once again wearing his business suit, the meek and bespectacled Clark Kent is crouching next to the unconscious wife beater when the police captain emerges through the shattered front door. Clark Kent explains (less than truthfully) to the officer: "Hello, Captain! I arrived to find the place like this! Looks as tho [sic] our friend Superman had dropped in to pay a visit!"
The wife-beater is first mentioned in the tip to the newspaper office in page 5 of this story. The wife beater is confronted by Superman in 7 panels on pages 5 and 6. And that's it. The second-villain ever faced by Superman was seen only a little bit more than the first villain (Bea Carroll, whose role was later expanded in with new page published in Superman #1). Few details were revealed about the wife beater. But based on his actions, including his violent behavior toward his own wife and his attempt to kill Superman, the wife can be classified as manifestly non-religious.
This character is in the following story which has been indexed by this website:

Action Comics (vol. 1) #1 (June 1938): "Superman, Champion of the Oppressed!"
(7-panel cameo)

Suggested links for further research about this character and the character's religious affiliation:
- https://www.comics.org/issue/293/
- http://comicbookdb.com/issue.php?ID=95
- https://www.comics.org/issue/470/