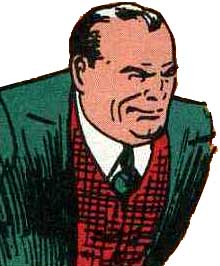 The Religious Affiliation of


Senator Barrows


Religion: Christian (denomination unknown) - nominal

Name: Senator Barrows
Classification:

villain
Publisher(s):

First Appearance: Action Comics (vol. 1) #1 (June 1938): "Superman, Champion of the Oppressed!"
Creators: Jerry Siegel, Joe Shuster
Number of Appearances: 1
Enemy of: Superman
Ally: Alex Greer
Occupation: U.S. Senator
Gender: male
Senator Barrows is clearly a villain. He is the first corrupt politician to ever appear in modern super-hero comics. Even before his appearance, the corrupt politician was a well-established stock character.
Clark Kent encountered Senator Barrows while on assignment to cover a civil war in the small South American republic of San Monte. Before heading to the country itself, Clark Kent had the bright idea to head to Washington to try to uncover the cause of the war. In the Capitol Building, Kent saw Senator Barrows conspiring with another man. Few words were said between them, because the Senator warned that they shouldn't be seen together in public. Clark surreptitiously snapped a photograph of the pair and overheard them plan to meet later at Barrows' apartment.
Taking the photo to a local newspaper morgue, Clark Kent was able to learn that the other man was Alex Greer, the "slickest lobbyist in Washington." It was said that nobody knows who backs Greer financially.
As Superman, Clark Kent eavesdropped on the scheduled meeting. There he learned what was really going on between Senator Barrows and Alex Greer. Greer was paying Barrows a large amount of money to ensure passage of legislation that would lead inexorably to war between the United States and Europe!
When Greer left the apartment of Barrows, Superman captured him and forced him to reveal who he was working for. Superman thus learned that Greer, motivated purely by greed, was lobbying on behalf of Emil Norvell, a wealthy munitions magnate. Senator Barrows, Alex Greer and Emil Norvell had no ideological reasons for wanting there to be war. They were willing to lead nations to war and allow untold soldiers and civilians to die simply to enrich themselves financially.
Because Senator Barrows seemed to be so totally lacking in human decency and a conscience, and because his sole motivation appears to be greed, he is clearly "non-religious" in the James 1:27 sense of the word. It may be tempting to classify him as "manifestly non-religious." But we can make a reasonable assumption about his religious affiliation, however completely he failed to live up to the teachings of his religion.
In 1938, the year this story was published, all U.S. Senators had a stated religious preference. Nearly all identified themselves as adherents of various Christian denominations, with a few Jews. Clearly not Jewish, U.S. Senator Barrows can reasonably be identified as a Christian, although he is probably only a "nominal" Christian (i.e., a Christian in name only). If Senator Barrows were in any way serious about his religion he would not have behaved as he did here. He has either become corrupted by the power of his office and the powerful temptation of trading his influence for wealth, or he was never serious about ethics and religion in the first place and mis-represented himself in order to get elected.
Regardless of their religious affiliation, Siegel and Shuster knew their readers would recognize Senator Barrows as a villain because of the way he violated his oath of office and betrayed his state and the American people. There are only two U.S. Senators per state, which in 1938 meant there were a total of 96 U.S. Senators. Hopefully most of them were honorable enough to never consider doing what Senator Barrows did in this inaugural Superman story. But history has yielded enough corrupt U.S. Senators who would do such a thing that Senator Barrows is not purely a fanciful character. He is based on real incidents and real politicians who Siegel and Shuster would have heard about or read about in the newspaper.
The story of Superman's confrontation with Alex Greer and his investigation into the war in San Monte continued in Action Comics #1. But Senator Barrows' relatively small part in this story was concluded in Action Comics #1. After Superman followed Alex Greer from his meeting with Barrows, the Senator is never seen again.
Why did Superman confront Greer instead of Barrows himself? A number of reasons are likely. From the conversation he overheard, Superman realized that Barrows was only pushing through legislation through for the money Greer was getting to him. Barrows apparently didn't know who was behind Greer and apparently didn't care. Superman wanted to get to the root of the problem. Interrogating Greer was the best way to do this.
But this might not be the only reason Superman left Senator Barrows alone. After all, Superman never returned to confront Barrows. Superman seems to have held Barrows less culpable than others. He specifically speaks of trying to find out "who corrupted" the Senator, almost as if the Senator was an impassive agent who naively succumbed to the lobbyist's machinations. This almost seems like a peculiar view for a hero who otherwise tried to root out corruption and often (this early in his career) savagely thrashed regular humans who crossed his heroic sense of fairness and progressive social justice. The impartial modern observer might dismiss any notion of Senator Barrows as "victim" in this story of greed and corruption. But Superman himself has always been solidly deferential to democratically elected authority. Superman's respect for democracy, authority and the American way may have constrained him from treating the U.S. Senator more harshly.
This character is in the following story which has been indexed by this website:

Action Comics (vol. 1) #1 (June 1938): "Superman, Champion of the Oppressed!"
(5-panel cameo)

Suggested links for further research about this character and the character's religious affiliation:
- http://comicbookthoughts.blogspot.com/2006/10/superman-in-action-comics-1-cover.html
- http://comicbookdb.com/character.php?ID=15156
- http://www.supermanhomepage.com/comics/pre-crisis-reviews/pre-crisis-mmrs-intro.php?topic=c-review-pc-act1
- http://xroads.virginia.edu/~ug02/superman/villains.html
- http://www.wtv-zone.com/silverager/sasar5/archive113.shtml
- https://www.comics.org/issue/293/
- http://comicbookdb.com/issue.php?ID=95
- https://www.comics.org/issue/470/