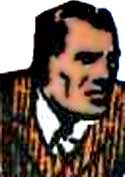 The Religious Affiliation of


unnamed clean-shaven gangster


Religion: manifestly non-religious

Name: unnamed clean-shaven gangster
Classification:

villain
Publisher(s):

First Appearance: Action Comics (vol. 1) #1 (June 1938): "Superman, Champion of the Oppressed!"
Creators: Jerry Siegel, Joe Shuster
Number of Appearances: 1
Ally: Butch Matson
Occupation: gangster
Gender: male
An unnamed mustachioed gangster and his equally unnamed but clean-shaven companion were the henchmen of Butch Matson, the first-ever named villain in a Superman comic. The pair backed up the vile and thuggish gangster Butch Matson who decide to horn in Clark Kent's date with Lois Lane at an elegant "road-house" restaurant.
The nicely dressed mustachioed and clean-shaven thugs accompanied Butch Matson when he left the club to pursue Lois Lane, who left in disgust after Matson verbally accosted her and Clark (pretending to be a "weakling") failed to do anything about it. Matson ran Lois Lane's taxi off the road. The two henchmen grabbed Lois from the cab and kidnapped her, putting her into Matson's car as he sped away. Matson had told his accomplices he intended to "show that skirt she can't make a fool out of Butch Matson!" As the continued their drive with Lois Lane as captive, there seem to be only three possible things they were planning to do to Lois: Rape her, beat her up, or murder her. (Or they may have planned a combination of these.)
Fortunately, Superman easily caught up with Butch Matson's vehicle, lifted the car above his head and shook its occupants out. The colorful hero caught Lois gently, but he was not gentle with Butch Matson and his thug friends. Butch and his henchmen were by now terribly afraid of Superman and fled as soon as they were shaken out of the car.
As obscure as Butch Matson and his henchmen may seem, their image has actually been seen by virtually anybody interested in super-hero comic history, for they and Superman are the four people on the classic cover of Action Comics #1. Butch Matson is the frightened man in the foreground of the cover picture. The mustachioed gangster is seen in the background, running off to the left of the picture. The clean-shaven henchman is on his knees almost under the car, which Superman is "smashing to bits." This cover image is almost identical to the scene that actually takes place in the story inside.
Little is known about the mustachioed and clean-shaven gangsters who backed up the villain Butch Matson in this first-ever Superman story. But based on their willingness to assist in Matson's doubtlessly violent designs against Lois Lane, along with their visual and linguistic portrayal as classic 1930s-era gangsters, they can safely be classified as manifestly non-religious.
This character is in the following story which has been indexed by this website:

Action Comics (vol. 1) #1 (June 1938): "Superman, Champion of the Oppressed!"

Suggested links for further research about this character and the character's religious affiliation:
- https://www.comics.org/issue/293/
- http://comicbookdb.com/issue.php?ID=95
- https://www.comics.org/issue/470/