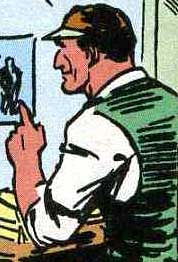 unnamed morgue clerk


Religion: indeterminate

Name: unnamed morgue clerk

Classification:

supporting character
Publisher(s):

First Appearance: Action Comics (vol. 1) #1 (June 1938): "Superman, Champion of the Oppressed!"
Creators: Jerry Siegel, Joe Shuster
Number of Appearances: 1
Employer: Washington D.C.-area newspaper
Ally: Superman
Occupation: clerk
Gender: male
Note: morgue clerk
An unnamed morgue clerk who appeared in only one panel would normally not be important enough to comment on. But because this morgue clerk appeared in the first Superman comic ever published, he merits brief mention.
The morgue clerk appears in panel 3 of page 11 of Action Comics #1 (June 1938). In the previous panels newspaper reporter (and secret do-gooder) Clark Kent saw corrupt U.S. Senator Barrows conspiring with an unknown man. Kent surreptitiously snapped a photo of the pair of political co-conspirators. Wanting to identify the other man, Kent took the photo to a local newspaper's morgue. (A "morgue" is an office or basement at a newspaper where the old archives and past editions are held.)
The narration introduced the panel: "At the 'morgue' of a local newspaper . . ."
Clark Kent shows the clerk the photo he took, asking, "Who's the chap speaking to Senator Barrows?"
The knowledgeable morgue clerk answers, "Why, that's Alex Greer, the slickest lobbyist in Washington. No one knows what interests back him."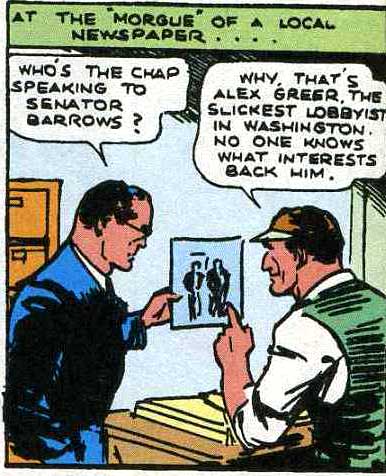 This character is in the following story which has been indexed by this website:

Action Comics (vol. 1) #1 (June 1938): "Superman, Champion of the Oppressed!"
(1-panel cameo)

Suggested links for further research about this character:
- https://www.comics.org/issue/293/
- http://comicbookdb.com/issue.php?ID=95
- https://www.comics.org/issue/470/