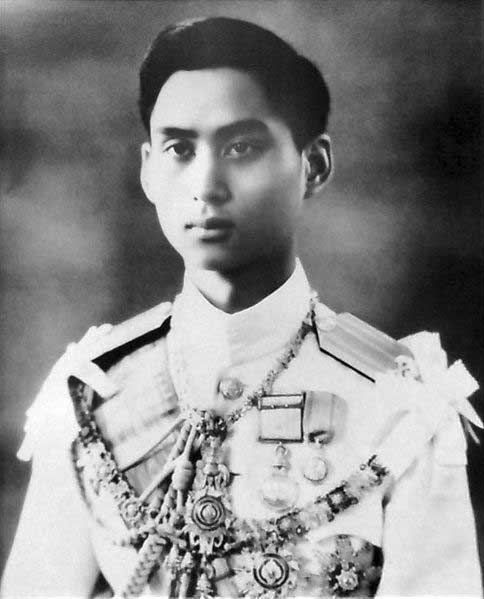 The Religious Affiliation of


The King of Siam


Ananda Mahidol Mahidol

Religion: Buddhist

Name: The King of Siam
Alter Ego: Ananda Mahidol Mahidol
Other Names: The King of Thailand; the Eighth King; Phra Bat Somdet Phra Poramen Maha Ananda Mahidol Phra Atthamaramathibodin; Prince Ananda Mahidol
Classification:

real/historical person
Publisher(s):

Earliest Appearance Listed in This Database: Action Comics (vol. 1) #20 (Jan. 1940): "Superman and the Screen Siren"
Creators: Jerry Siegel, Joe Shuster
Number of Appearances: 2
Occupation: king
Nation: Thailand
Birth Place: Heidelberg, Germany
Gender: male
The King of Siam was mentioned in panel 2 of page 6 in the Superman story in Action Comics #20 (Jan. 1940). In this panel Clark Kent is trying to gain entrance into Colossal Films Studio, where he is trying to investigate why actress Dolores Winters would kidnap a yacht full of celebrities. Superman told the guard, "But you can see from my press card that I'm a newspaper correspondent!"
The undeterred guard told the reporter, "Even if you were the King of Siam, you couldn't enter tonight. Sorry. Those are my orders!"
Siam (which is the historic name for the Southeast Asian nation of Thailand) has had a long succession of kings. The classic Rodgers and Hammerstein musical The King and I did not open on Broadway until 1951, over ten years after this comic book story was published, so it could not have been an inspiration for this guard's words. Presuming that the guard was simply referring to the current King of Siam, he would have been Ananda Mahidol Mahidol, the eighth king of the Chakri Dynasty. Prince Ananda Mahidol became the King of Siam on 2 March 1935 and ruled until his death on 9 June 1946.
The "King of Siam" was again mentioned in passing in the story retroactively titled "The Construction Scam," published in Superman #6 (Sep.-Oct. 1940). In panel 7 on page 3 of this story Clark Kent and Lois Lane are visiting a construction site as part of their investigation into a case of corruption, graft, and murder. A surly construction worker warns them away, but Clark explains, "We're reporters from the Daily Planet."
The construction worker replied, "Reporters, eh? I don't care if you're th' King of Siam! Git goin' or I'll lambaste ya as sure as my name is Sam Goetz!"
This character is in the following 3 stories which have been indexed by this website:

Action Comics (vol. 1) #20 (Jan. 1940): "Superman and the Screen Siren"
(mentioned)

Superman (vol. 1) #6 (Sep.-Oct. 1940): "The Construction Scam"
(mentioned)

World's Best Comics: Golden Age Sampler (Oct. 2003): "The Construction Scam"
(mentioned)

Suggested links for further research about this character and the character's religious affiliation:
- http://en.wikipedia.org/wiki/Ananda_Mahidol
- http://www.britannica.com/EBchecked/topic/22675/Ananda-Mahidol